Archives for April 2017
Please visit the South Bay Art Association for more artist opportunities:
Written by Tara Smith for the Long Island Advance.
https://www.longislandadvance.net/4316/A-first-for-Patchogue-Arts-Council
Inflatable carrots towered over revelers strolling past the gazebo in the community garden at last year's Arts on Terry Festival. The public installation served as a nod to the team of artists responsible for the revitalization and growth of arts on Long Island — and in Patchogue. An artist's spring, if you will.
Two years before the carrots sprang up, a beanstalk "sprouted" each morning at dawn at the corner of Briarcliffe College as part of the inaugural PAC MAC Festival. Illuminated in yellow, green and blue hues, a sense of growth achieved among differently shaped pods. Artist Beth Giacummo-Lachacz likened the piece to the diverse and vibrant community in Patchogue, installed as a celebration of the mini-Renaissance Patchogue has seen over the last 30 years.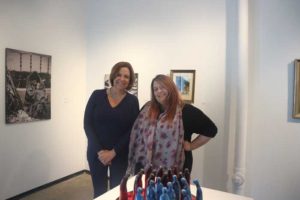 "They always seem to be vegetables," Giacummo-Lachacz said, joking about pieces she has created for PAC events. Her larger-than-life works explore themes of shared community, cultural awareness and contemporary ideas of identity and sexuality. It's impossible to take a passive approach when viewing the sculptures. The breadth of her work demands the art be consumed as a shared, multisensory experience.