Written by Tara Smith for the Long Island Advance.
https://www.longislandadvance.net/4316/A-first-for-Patchogue-Arts-Council
Inflatable carrots towered over revelers strolling past the gazebo in the community garden at last year's Arts on Terry Festival. The public installation served as a nod to the team of artists responsible for the revitalization and growth of arts on Long Island — and in Patchogue. An artist's spring, if you will.
Two years before the carrots sprang up, a beanstalk "sprouted" each morning at dawn at the corner of Briarcliffe College as part of the inaugural PAC MAC Festival. Illuminated in yellow, green and blue hues, a sense of growth achieved among differently shaped pods. Artist Beth Giacummo-Lachacz likened the piece to the diverse and vibrant community in Patchogue, installed as a celebration of the mini-Renaissance Patchogue has seen over the last 30 years.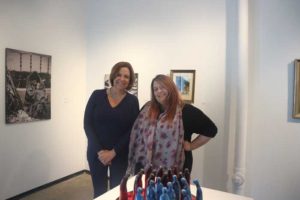 "They always seem to be vegetables," Giacummo-Lachacz said, joking about pieces she has created for PAC events. Her larger-than-life works explore themes of shared community, cultural awareness and contemporary ideas of identity and sexuality. It's impossible to take a passive approach when viewing the sculptures. The breadth of her work demands the art be consumed as a shared, multisensory experience.
Now, she is translating those big ideas and visions to the PAC, where she is adjusting to her new role as executive director. The 34-year-old has an impressive background, never settling for the starving-artist trope.
"Collaboration is the best thing you can do as an artist," she said, noting that her experiences over the last several years have collectively led to this new victory.
"[PAC] actually started when I was working on my [Master of Fine Arts]," Giacummo-Lachacz said. In 2008, the East Patchogue native attended classes at Pratt and made it back for visioning meetings to help get PAC off the ground. The founding member also served as president of the organization from 2011-2012.
In 2010, Giacummo-Lachacz was appointed exhibition/curatorial director and senior curator at the Islip Art Museum. Her ideas for collaboration sparked programs like IAM an LI Artist Residency (2016) and after-hours events such as IAM Up Late.
"It's like coming home," Giacummo-Lachacz said, sitting at her new desk tucked in the back of the PAC Gallery. Her hands still paint-stained, she had just come from teaching fifth-graders as part of an Eastern-Suffolk BOCES C3 program that places artists in classrooms that pair up their activities with the lesson plan. Her students are about to see a performance about Harriet Tubman's life; Giacummo-Lachacz has the students creating "doors to freedom," depicting the façade of doors along the Underground Railroad that open up to reveal an illustration of freedom.
"I'm a lot of things," she said humbly, but noted that she has always maintained a presence at PAC, and championed for Artspace when planning board meetings were still taking place. "In many ways, I never left."
She sees her new job as a way of coming full circle. "I took my experience from PAC and ended up at the museum. The museum gave me promotion and fundraising experience — those are not things you learn at grad school," she admitted. "Now, I'm returning to PAC to help expand."
The creation of an executive director position is huge for the 9-year-old organization, which until last year relied solely on volunteers. "It's hard to grow the organization that way," said PAC president Lori Devlin, noting that many members, though dedicated, were involved in a slew of other community organizations and commitments.
In January, the Long Island Advance reported that PAC received a grant of $49,500 through the New York State Council for the Arts to fund the first-ever full-time director position. The grant is a matching grant of which PAC has contributed 15 percent for the expense of the employee, which includes some benefits as well. After the first year, the grant has the potential to be renewed for another year, but Devlin hopes to board will be able to seek additional funding to support the position on their own.
"There's sort of a catch-22 when it comes to funding," Devlin said. The conundrum lies in funding eligibility — you need a full-time staff to garner the larger grant fund available. Devlin hopes that this, combined with the fundraising experience Giacummo-Lachacz brings, will lead to more opportunities for the council. "We've already got so much for [Giacummo-Lachacz] to do," she said smiling.
One of the first and most important tasks will be working alongside the board to create a strategic plan for the organization. "[PAC] has grown so much. We went from not having a space at all to having this beautiful gallery space. The first place we were showing work was the lobby of the theater," Giacummo-Lachacz said.
Though bigger and better seems to be the theme, Devlin noted that losing the huge gallery space at Briarcliffe was a blow. "So another idea is to find a larger space available to us. Studio space has always been a dream," Giacummo-Lachacz said. It didn't take long for a stream-of-consciousness list of ideas to come pouring out.
"We all have ideas," she said. The next steps will be to hear all of those ideas and draft them into a strategic plan that will detail the council's long-term vision along with a roadmap of how to get there. "It will also look at the long-term financial viability," Devlin said.
"We have done a real lot with a real little over the last few years," said director of programming John Cino. He has worked with Giacummo-Lachacz on curated shows at the Islip Arts Museum and several panels at other museums and is optimistic about her leadership.
"She has a really good overview of what's happening on Long Island in the art world and also has contacts beyond Long Island," Cino said. "I see it as a chance for us to grow," he added, noting that having her around brings a fresh perspective and new, youthful energy to the council.
He is also looking forward to working with Giacummo-Lachacz, since they share similar visions. "We're both artists and see things from the perspective of being an artist on Long Island," Cino said, explaining that sometimes Long Island artists are overshadowed by urban creators when it comes to individual grants. "We're both big on the idea of trying to connect LI artists together and create more dialogue," he said.
He also noted that for the past five or so years, he has been responsible for curating gallery exhibits. "Sometimes you get this brain freeze. It'll be nice to have someone to knock ideas off of and work toward a creative hive," Cino said.
Giacummo-Lachacz shares that vision of Patchogue being a true arts hub. "We're one of the strongest artist communities on Long Island because we have so much between visual and live arts, music and even the restaurants," she said, noting that she is looking forward to creating new "imPACtful" events. "It's bittersweet to say goodbye," she said of leaving the Islip Art Museum. "There are not enough words to describe the gratefulness I feel."