Virtual Lab | Mad Magic |
Projection Mapping Demo with MoCA L.I.ghts artist Kelley Bell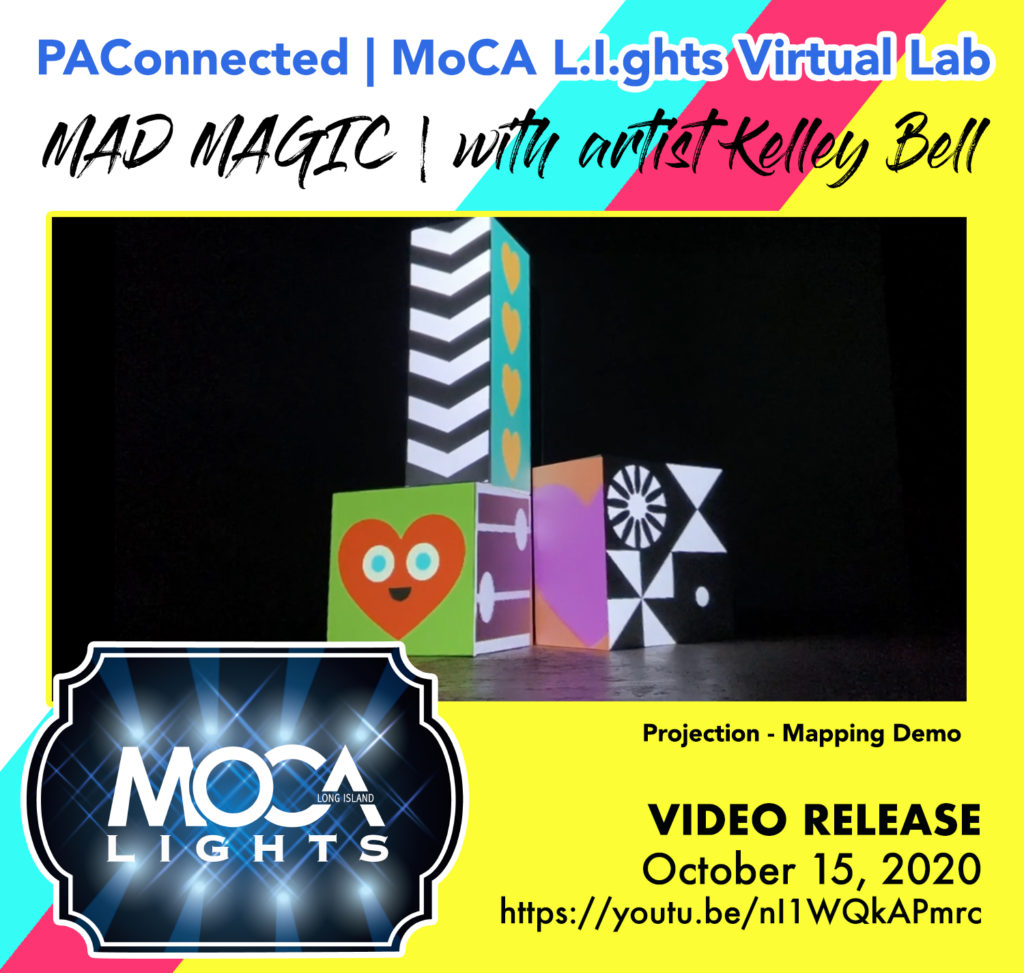 VIDEO RELEASE October 15 Mad Magic | Projection Mapping Demo with MoCA L.I.ghts artist Kelley Bell.
Utilizing "MadMapper", artist Kelley Bell will demonstrate the process of projection mapping to create an immersive viewing experience! During this virtual lab, you will see exactly how the artist transforms some of Patchogue's familiar architecture for Long Island's first MoCA L.I.ghts projection mapping installation.

Have a question after the virtual lab video release?
Send any questions to info@patchoguearts.org with the subject "Projection Mapping Virtual Lab". Questions will be answered through November 1.

ABOUT Kelley Bell
Kelley Bell is an artist, animator, and educator living in Baltimore Maryland. Her work draws from a penny arcade of visual influences: automata, midcentury design and illustration, midway rides, carnival games, and hand-lettered signage. Her animation and installation work includes screenings at the Visionary Arts Museum in Baltimore, Maryland, the Annapolis Film Festival, the Propeller Center for the Arts in Toronto, Ontario, and the Ontario Science Center. Her large-scale projection mapping works and other illuminated art have appeared in numerous festivals like the MOMENTUM festival in Toledo, Ohio, Dlectricity in Detroit, Michigan, the InLight Festival in Richmond, Virginia, the Lumen Festival in Staten Island, New York, Light City in Baltimore, Maryland and Animafest Zagreb in Zagreb, Croatia. Kelley holds an MFA from the University of Maryland, Baltimore County in Imaging and Digital Arts, and a BFA in Graphic Design from Pratt Institute. She is an Associate Professor of Design at the Visual Arts Department at University of Maryland, Baltimore County.cakeweek.com

ABOUT MoCA L.I.ghts
MoCA L.I.ghts will transform the Village of Patchogue into an immersive open-air museum and arts destination. MoCA L.I.ghts programming will include a number of outdoor art experiences including Art on the Marquee, Mapped, and the Night Vision pop-up gallery. Free educational programs offered in partnership with the Patchogue – Medford Library and Cornell Cooperative Extension of Suffolk will take place virtually and in-person.
Innovative projected artworks utilizing specialized projection mapping techniques, animation, and site-specific media works created by local, national, and international artists will be exhibited for free to the public on foot, by car, and online from October to December 2020. The vibrant businesses of our downtown will become a backdrop to the first immersive arts experience of its kind to take place on Long Island.
---
Please help us continue to provide free programming and artist resources like the above!
More on MoCA L.I.ghts