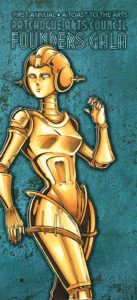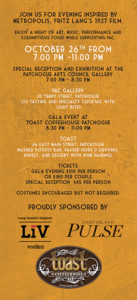 Since 2008, PAC programming has introduced tens of thousands of people to downtown Patchogue and its vibrant arts community. We ask you to join us in celebrating the founders of the Patchogue Arts Council during its first annual A Toast to the Arts: Patchogue Arts Council Founders' Gala. This two tier event will begin at the Patchogue Arts Council Gallery and move across the street to Toast Coffeehouse. The evening's theme is inspired by Metropolis, Fritz Lang's iconic, futuristic 1927 film. The gala will highlight PAC's programming, which includes art, music, spoken word, and performance. Festivities will also include items available for auction, creative raffles, photo op fun, and wine paired with delectable bites.
This has been a watershed year for the Patchogue Arts Council marking an important step in our growth. We have been awarded a special workforce grant from the New York State Council for the Arts (NYSCA) enabling us to hire our first Executive Director. Receiving this award recognizes the growth and substantial professional contributions PAC has made to the arts community on Long Island and in New York State.
The Patchogue Arts Council is a 501(c)(3) not-for-profit organization. The mission of the Patchogue Arts Council is to promote, support, and encourage the arts. PAC provides artists working in all mediums with opportunities to share their work, network with other creatives, and participate in arts advocacy initiatives. The Patchogue Arts Gallery provides year-round exhibition programming and community engagement. In addition to supporting a variety of artists and art forms, the Patchogue Arts Council also works to engage a diverse audience by presenting a broad range of programs. We are proud to play an integral role in the cultural renaissance and revitalization of Patchogue and the arts on Long Island.
Research has shown that for every dollar a community invests in the arts, four flow back to the community. We hope you will consider helping us continue to strengthen our communities through the arts!
For a pdf of the Gala sponsorship, click here: https://patchoguearts.org/wp-content/uploads/Gala_Sponsorships_Ads_Sheet_Final.pdf
Use the donation button below to purchase tickets or make a donation for the gala.
Pre-Gala Reception with LIV tastings only $45.00
Gala Evening including Reception with LIV tastings for one person $100
Gala Evening including Reception with LIV tastings for two people $180
If you can't join us for the gala evening but would like to make a donation please enter any amount that is meaningful to you.