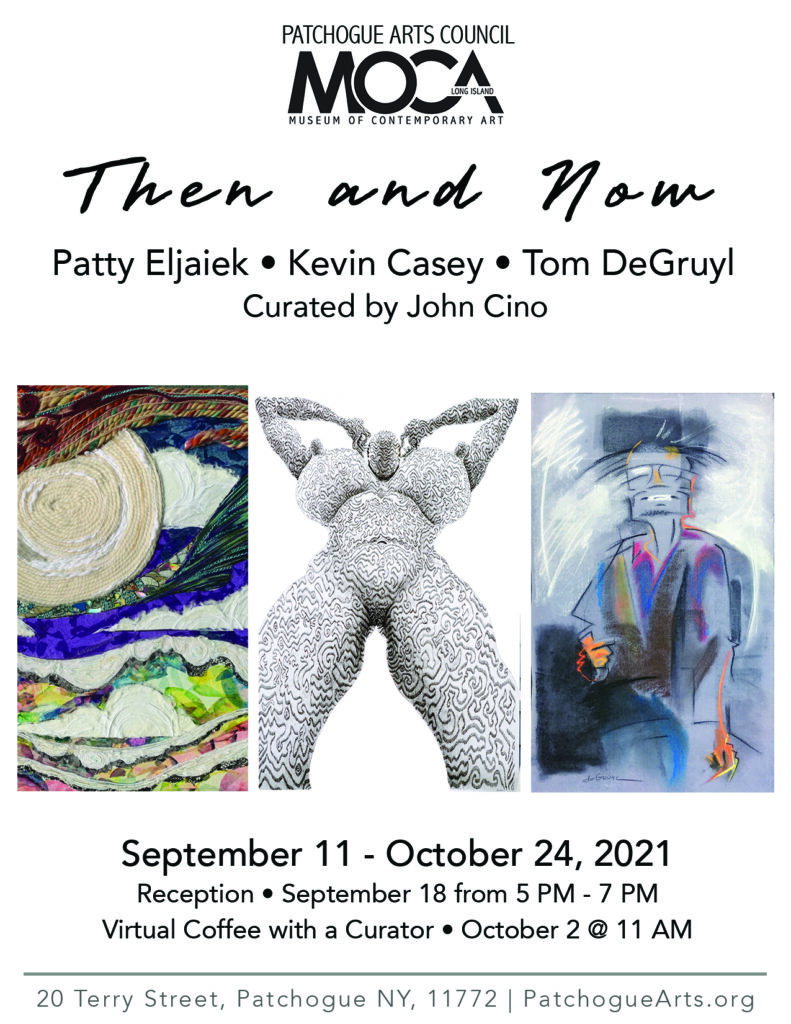 VISIT THE INTERACTIVE VIRTUAL TOUR BELOW
PATCHOGUE ARTS COUNCIL • MOCA L.I.
Then and Now
Curated by John Cino
September 11 – October 24, 2021
Artist Reception September 18, 5:00 – 7:00pm
The Patchogue Arts Council • MOCA, LI is proud to present Then and Now from September 11 through October 24, 2021.

The Patchogue Arts Council (PAC) and the Museum of Contemporary Art Long Island (MoCA LI) continues its 2021 theme Coming of Age with Then and Now. Then and Now presents the work of three Long Island artists whose works are uniquely impacted by memories from earlier times in their lives. Included in Then and Now are Tom Degruyl, Patty Eljaiek, and Kevin Casey.

Tom DeGruyl, whose works emphasize drawing, calls himself "a drawist." Having grown up in Kings Park and currently living not far away, DeGruyl inhabits a world that is a continuum of past to present. His works "deal with issues of time and memory; attachment and loss; and spirituality." DeGruyl sees his work as a "visual memoir" and as present transcriptions of the act of remembering people, places, and events that have "impacted (his) emotional and intellectual life".

Mixed media artist Patty Eljaiek grew up in Barranquilla, Columbia in a family of "poets, artists, dancers, ranchers, writers, singers, loan sharks, entrepreneurs". As years passed so did many of the family members whose stories had filled her young mind with wonder. Eljaiek recollected those wondrous relatives in mixed media works of magic realism. More recently she has sought to deepen the connection especially with her female mentors from youth. Working in traditional methods of crochet, embroidery, and fabric arts taught to her by her mother and abuela, Eljaiek reaches into a metaphysical realm through form and texture.

After a less than promising emergence into adulthood Kevin Casey rose from his personal darkness into a confident maturity. The process has been recorded in his art works. Earlier pieces are full of the impulsive energy of youth and can be seen as a young man's effort to gain control of the forces affecting his life. Through experiences of "floating in a sensory deprivation tank, astral projections, and meditation he developed a vocabulary of spiritual themes and existential concepts. Working through mentorships with Malcolm Morley and Ted Stamotelos, Casey gained control of his media just as he had done with his life. Casey's recent pieces balance a sense of patient control of materials with a deep shamanic experience of a numinous world.

A fourth artist was intended for this exhibition. Justin Klein passed from this world recently as we moved from conceptual to practical considerations for the preparations for this show. In reaching out to his estate we hope to exhibit a work "in memoriam."
Then and Now presents a variety of ways artists have processed their life experiences through the creation of art in MoCA LI from September 11 through October 24. There will be a reception for the artists on September 18 from 5:00 – 7:00pm
The conversation continues with a virtual live panel during Coffee with the Curator, October 2 at 11:00am cohosted by Patchogue Medford Library.

Artist's Virtual Panel Discussion
Coffee with the Curator – October 2, 11:00am
Co-hosted by Patchogue Medford Public Library
Join Zoom Meeting
https://us06web.zoom.us/j/86056442584?pwd=SlRSNGlQRjRpSVlqZGlERURMOTY5dz09
Meeting ID: 860 5644 2584
Passcode: 384363