The Garden Sessions: Two Evenings of Cross Cultural Music
Cardamom and Cumin: August 18, 7 pm
Jasmine and Patchouli: September 8, 7 pm
at PAC Sculpture Garden, 20 Terry Street, Patchogue, NY
The Patchogue Arts Council unveils an exciting new program. In the spirit of E Pluribus Unum, PAC Garden Sessions will pair a group of musicians from various world music genres with local music of popular appeal. In an evening of synergy some musical explorers will be introduced to the dynamic local music scene while others might have an experience of new and exotic sounds.
Cardamom and Cumin: August 18, 7 pm:
Pairing classical Indian music with jazz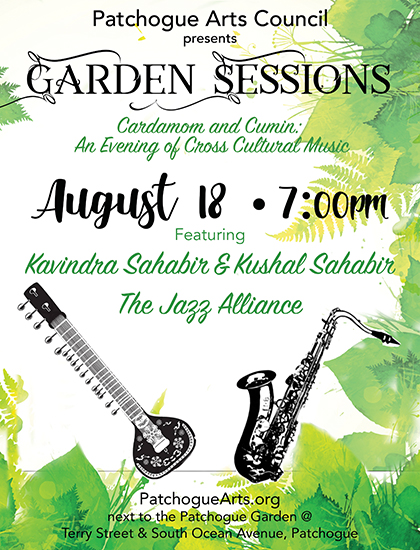 Brothers
Kavindra Sahabir,
Sitar and
Kushal Sahabir
, Tabla performing a variety of pieces from the classical Indian tradition the basis of which are the raga which informs the melodic structure and the tala which provides a creative framework for rhythmic improvisation in time.
The Jazz Alliance
will perform a variety of jazz genres. The Jazz Alliance is Ray Germann on tenor saxophone; Mike Molaro, trumpet; Thom Penn, drums; Phil Pollack, piano and Neil Ralph, bass.
Jasmine and Patchouli: September 8, 7 pm:
Pairing Arabic infused music with jam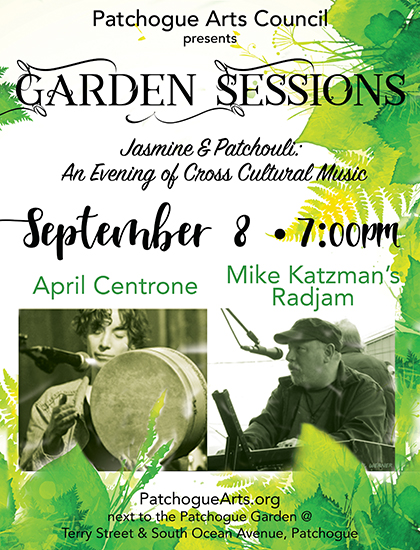 April Centrone
co-founded the New York Arabic Orchestra and the Arabic music and language project مشروع جذور لبنان
Project Roots Lebanon
, serving youth of refugee camps and underprivileged zones throughout Lebanon. Centrone leads New York and Beirut-based women's and mixed groups in percussion, 'ud, and meditative/trance drumming. April will be performing her synthesis of Arabic music with Kira Sanchez on bass and guitar.
Mike Katzman's Radjam
. Keyboardist
Mike Katzman
has been a stalwart member of the Long Island jam scene for thirty years. He currently leads the popular
Jellyband
and is a member of
The Electrix, Rusty String Band
. Mike has assembled for this performance a group of musicians that he has played with in various bands over the past three decades.
Garden Sessions will sure to excite the musical adventurer in us all!
A special thank you to our EPU Festival Lead sponsors….