Colors Thru Time | Ted Stamatelos
Now on display at Roast Coffee and Tea Trading Co. is Colors Thru Time, a solo exhibition featuring the artwork of Ted Stamatelos. The exhibition features unique mixed media and glass pieces that re-examine archetypal sculptures in a new, contemporary light.
In his series of work, also titled Colors Thru Time, Stamatelos appropriates and manipulates classical imagery. The majority of the works on display depict classical Greco-Roman sculpture. He crops the photographs and drawings of these classical works, removing them from their settings. Stamatelos places his subject matter into fields of color that he creates through multiple layers of colored ink stains, dripped on Plexiglas. This artistic process is part intentional and part happenstance. Stamatelos chooses the color of inks he uses, but cannot control how they drip or stain the Plexiglas. This can lead to colors blending into one another or colors pooling is parts of the composition while leaving other sections relatively untouched.
Representative of the exhibition is Colors Thru Time #1. The work features, assumingly, a Greco-Roman bust or a sculpture inspired by antiquity. The bust sculpture is echoed and overlapped on top of itself, mimicking diplopia or double-vision. The artist blends complimentary colors such as yellow and purple throughout the composition with sections of orange and violet peppered on the outskirts of the picture plane. Stamatelos brings his classical subject matter to the outer edges of abstraction through a series of overlapping imagery and color theory.
Ted Stamatelos is a fine artist from Long Island, NY. He has been an accomplished art therapist since 1976, directing art programs for the developmentally delayed at the Western Carolina Center. He began painting full-time in 2007 and has numerous exhibitions throughout Long Island and in Manhattan.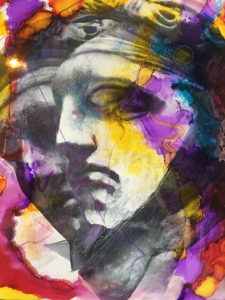 Colors Thru Time #1, 2016
The Patchogue Arts Council (PAC) is a 501(c)(3) non-profit corporation founded in 2008 to promote, encourage, and support the arts on the greater south shore of the Town of Brookhaven. The Patchogue Arts Council and Roast Coffee and Tea Trading Company created the PAC Members Gallery at Roast in the summer of 2013 as an alternative exhibition venue where PAC members can exhibit their artwork. In addition to exhibiting artwork and brewing award-winning coffee, Roast Coffee and Tea Trading Co. hosts a monthly poetry night on the first Saturday of every month.
Colors Thru Time, featuring the artwork of Ted Stamatelos, is on display at Roast Coffee & Tea Trading Co. now through January 7, 2018. A reception will be held on Sunday, December 3, from 2 – 4 PM. The reception is free and open to the public.
Jay Schuck
Exhibitions Coordinator & Assistant Curator
Roast Coffee & Tea Trading Co.
41 E. Main Street
Patchogue, NY 11772
Image Credits
All images are courtesy of the artist
© Ted Stamatelos