Public art in Patchogue continues to bloom – in the garden!
WHO: PATCHOGUE ARTS COUNCIL • MOCA L.I.
WHAT: Sculpture Garden When:July –September 2022
WHERE: Patchogue Garden Club Garden, corner of Terry Street and S. Ocean Avenue, 
Patchogue, NY 11772
ANNUAL SCULPTURE GARDEN
On view through November 2022
Curated by John Cino

@Patchogue Garden Club Gardenon the corner of Terry Street & South Ocean Avenue,

PatchogueOne of Americas Greatest Neighborhoods gets new public art…..
A Patchogue Arts Council, Village of Patchogue & Patchogue Garden Club collaboration.

The Patchogue Garden Club was founded in a vacant lot in 1996 to develop and maintain a public garden. The club seeks to educate the community in matters of design, gardening, and garden maintenance. The members have since assisted in planting and beautification projects throughout the village. The garden has hosted sculpture exhibits since 2014.

The Patchogue Arts Council in collaboration with the Patchogue Garden Club presents the 2022 Summer SculptureGarden. This year's garden will feature five sculptures by four artists; Pauline Leilani Badamo, Michel Hennesey, Thea Lanzisiero and Michael Zographos (whose work will be installed later in July).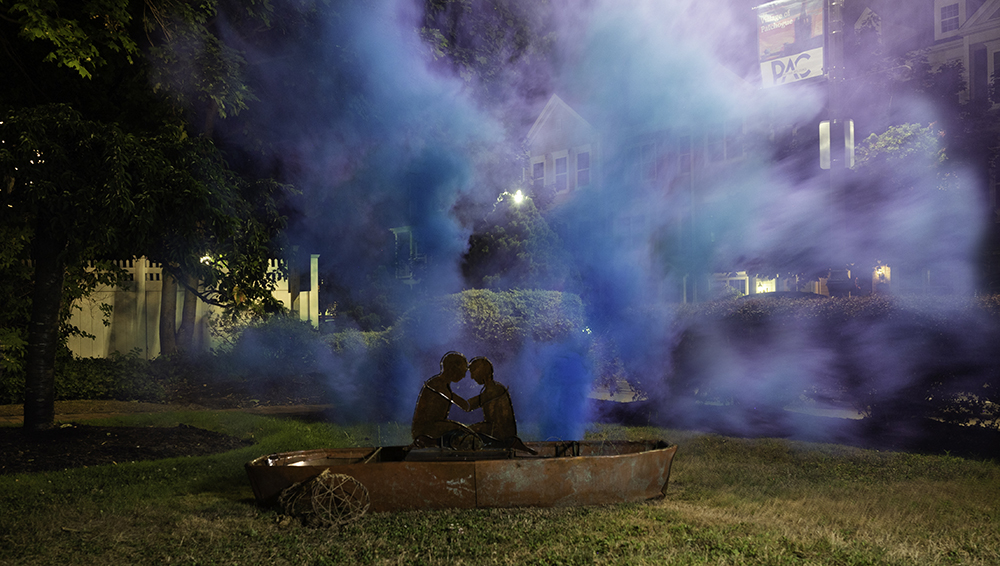 Pauline Leilani Badamo,Kuleana, 2021
Pauline Leilani Badamo is a contemporary Kanaka Maoli sculptor whose work investigates the relationship of culturalspirituality and practices as a way of healing from intergenerational trauma.

Kuleana is an invitation to share Hawaiian and Indigenous values with the public while simultaneously inspiring conversation regarding land, food, and cultural injustices. Hawaiian and Shinnecock communities have been stewards of the Earth for several generations; taking only what is needed and maintaining a balance of natural resources through food, land, and spiritual practices. Both cultures have deep roots which align their spiritual well-being with the Earth and a holistic way of living. As the two figures perform the "Honi" ceremony, they share "ha" or the Eternal breath of life. In this moment of shared breath, each individual accepts the responsibility to care for one another and the Earth through their actions. It is a moment of humanity realized and a collectiveconsciousness to live Pono or righteously through our communal behavior. However, these two figures are bonded in the sharedtrauma of the land, food, and culture which has been stolen from them over generations via Colonization. Injustices of land, food, and cultural sovereignty continue to persist presently. Today, both the Hawaiian and Shinnecock communities actively fight forclean water, health of natural resources, sovereignty of agriculture, and cultural sovereignty. My hope is that Kuleana can be a vessel for impactful conversation and changes we must make to live Pono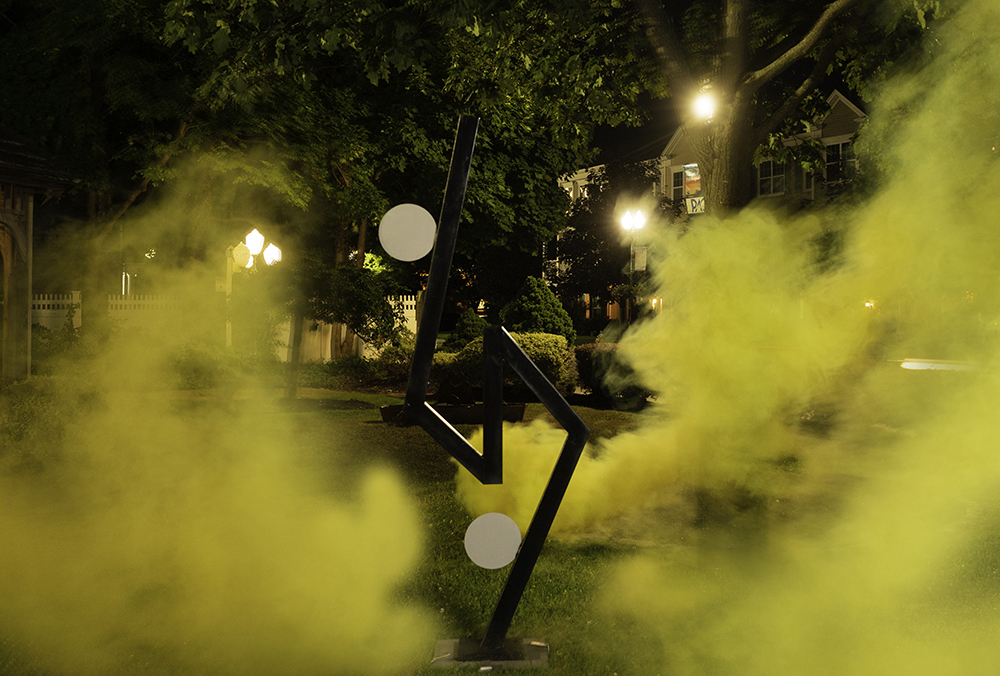 Michael Hennessey. Dancing Disks, Painted Steel, 1986-2022
Michael Hennessey has exhibited extensively throughout the East End and Metroareas while maintaining his own design and engineering firm. He works in directconstruction as well as casting making both figurative and abstract pieces citing as influences Michelangelo, Auguste Rodin, Camille Claudel as well as Hans Arp, Isamu Noguchi and Alexander Calder. He especially acknowledges as mentor the East End sculptor David Porter. Michael maintains studios in Wading River and Yaphank.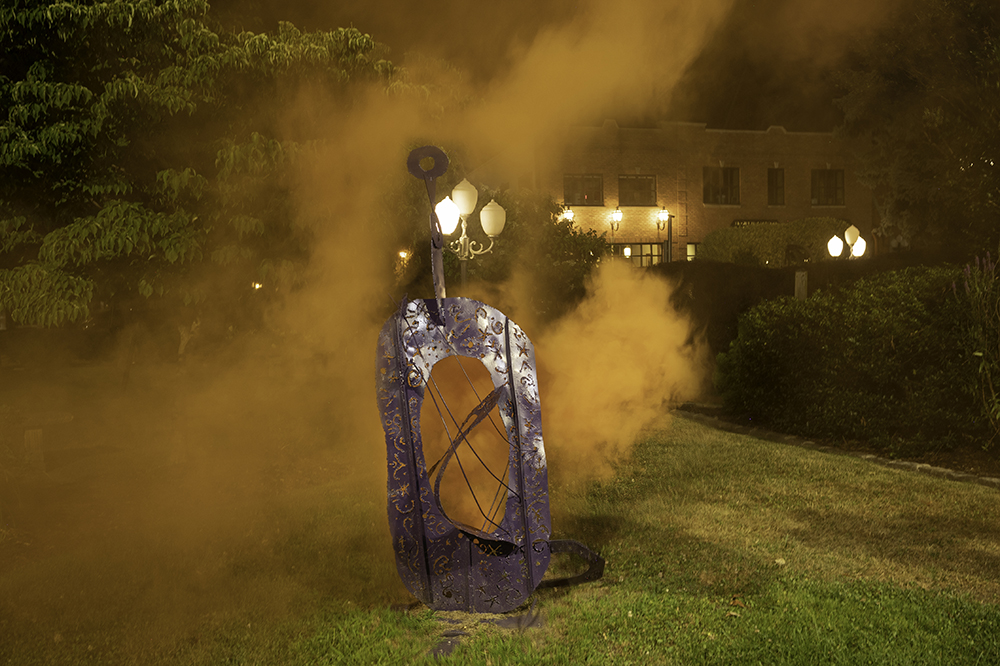 Thea Lanziserio, Talisman, welded steel, paint, 2007-2022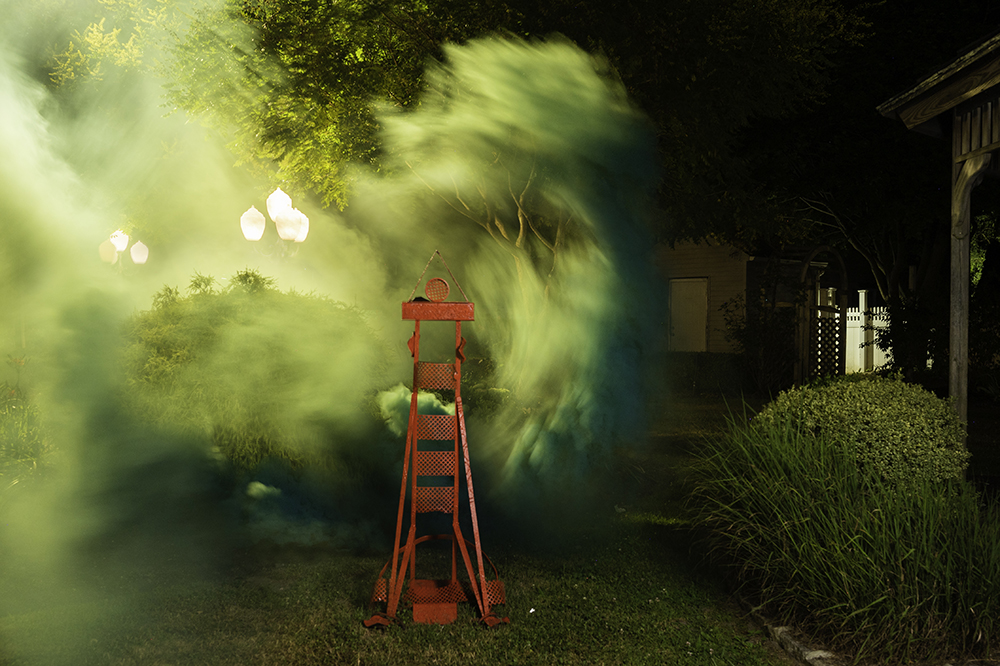 Thea Lanziserio, Sphinx, Welded Steel, Paint, 2009-2022
Thea Lanziserio is a New York based polymedia artist & certified sound healing practitioner who creates sculpture & immersive installations. She has received grants from NYSCA, NYFA and JPMorgan Chase and has had commissionsand work placed in both private and public collections, including MUSMA, The Museum of Contemporary Sculpturein Sassi, Matera Italy. She has public art works permanently installed in New York City outside the Archer Hotel and at the Anne Frank Memorial Garden, Arboretum
Park, Dix Hills, NY. She has had art residencies in Stavanger, Norway; Matera, Italy; Rhodes Greece; and the Heckscher Museum, NY. She "is interested in structures that bind elements together, hide or protect like armor, or markterritory and create boundaries" and contemplates "both the infinitely small unseen world of atoms and molecules and the infinitely large movement of planets and universes which (create) fields of energy and vibration". She looks to the future and the ancient past forming webs and bridges as she 'playfully' entwines ideas of space and time.
Thea received her BFA in Visual Arts from SUNY Purchase College and MFA at CUNY Queens College, in PublicPractice in 2012. She is an adjunct professor of art at CUNY Brooklyn College and is former President of the Sculptors Guild.
Images by Benny Migliorino