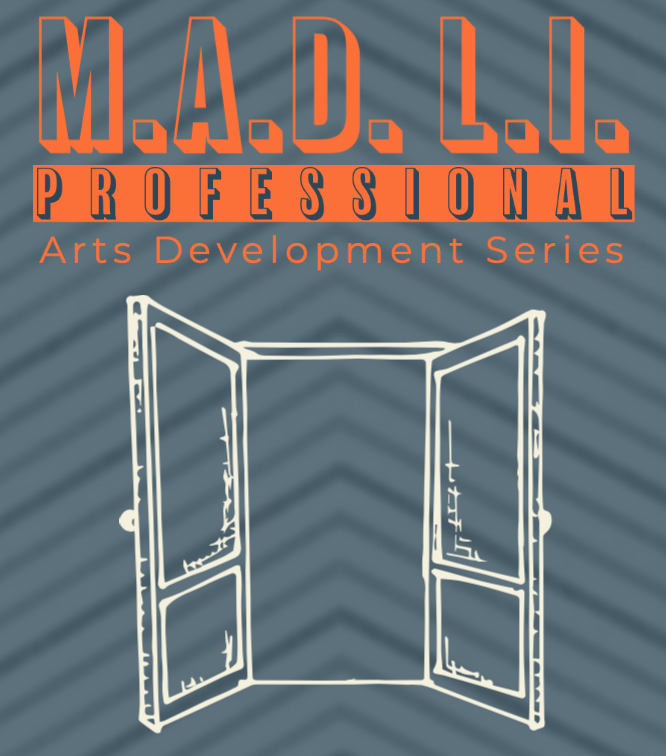 Patchogue Arts Council
M.A.D.L.I. Professional Arts Development Series
Professional development programming for creatives by creatives hosted by PAC• MoCA L.I. with no financial barriers to participation.

This series of professional development offerings is an iteration of PAC's established service to artists and organizations. Created by artists and arts professionals with extensive experience in professional development. Past offerings created in the same spirit have included; Slide Slam, one on one sessions with trained NYFA L.I. artist consultants, PAC Chats – Professional Artist Chats and artist development workshops. Creating opportunity and space for like minded arts professionals to network and continue developing their careers by fostering new connections, partnerships and collaborations.
M.A.D. L.I. Arts Professional Arts Development series welcomes creatives, arts professionals, and arts organizations interested in arts advocacy, fostering new partnerships, developing professional skills, and new tools for advancing their respective career and organizations to the next level. Creatives programming for creatives to strengthen our collective careers and strengthen the professional arts community across Long Island.
Topics planned are a result of a response for need and suggestions from artists and fellow organizations over the past 15 years. These programs will continue to change and adapt to the interests of those they serve. Programming will include panels, workshops, consultations, and resources for strengthening the presence of the arts on L.I and addressing topics of concern for all those working in the arts.
Future presentations include: Artist package development and feedback, One on one sessions with NYFA trained artist consultants, curators and arts professionals, Public Art Proposal Development, Creative Project Management, Pricing artwork and commissions, Resource sharing, Exhibition expertise, Art installation and packing, and drop-in hours for help with ongoing submissions!
Have a suggestion? Feel free to send your topic suggestions to [email protected]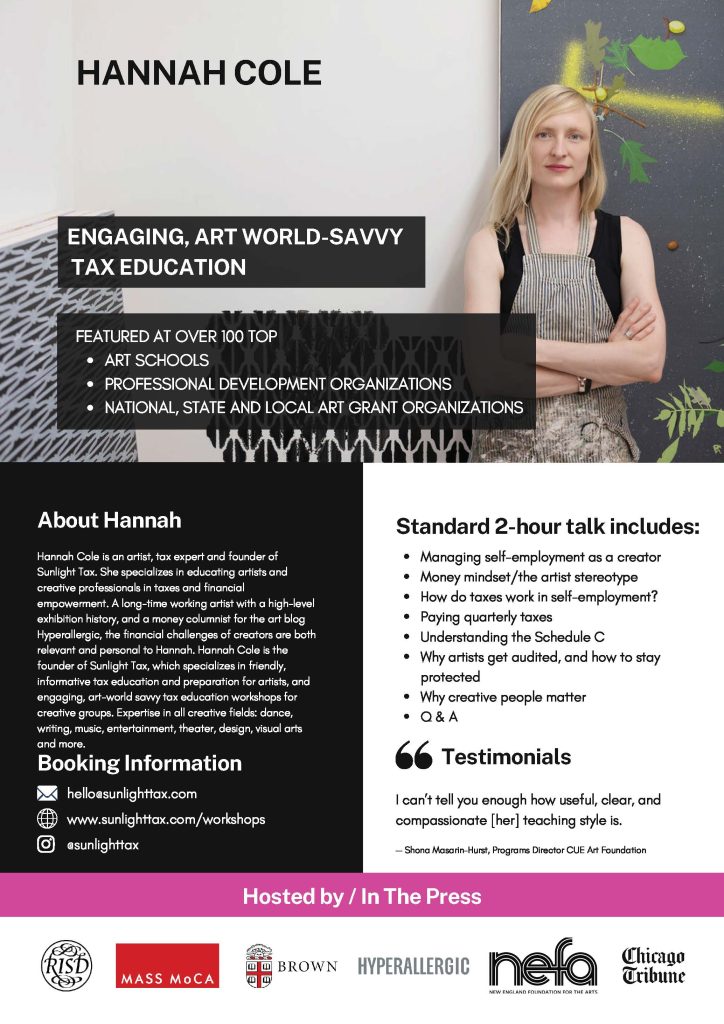 Taxes for Artists, Freelancers and Creative Businesses with
Hannah Cole, ENROLLED AGENT, of Sunlight Tax
NOVEMBER 28 from 6:30 – 8:30 PM
Presented virtually on Zoom
Register for your virtual seat. Meeting details will be emailed once your spot is reserved.
Please note this is a live virtual presentation. It will not be recorded and posted. You will have to attend in order to see this particular presentation!
All your TAX questions answered…
What can I deduct?
Do I bring receipts to my accountant?
Is my art a business or a hobby?
What is a Schedule C?
How do I deduct my home studio?
Why do freelancers have to pay taxes quarterly, and how do I do that?
Hannah Cole is a tax expert who specializes in working with creative businesses and artists. A long-time working artist with a high-level exhibition history, and a tax and money columnist for the art blog Hyperallergic, the financial challenges of freelancers and small creative businesses are both relevant and personal to Hannah. She will discuss the basic tax equation, self employment tax and the estimated quarterly tax system, audit concerns for the creative person, and other tax issues specifically relevant to artists and makers, followed by a question and answer period. Hannah Cole is the founder of Sunlight Tax, which specializes in friendly, informative tax preparation for artists, and engaging, art-world savvy tax education workshops for artist groups, and in empowering creative people to set up for long-term success and take control of the financial side of their careers through her program, Money Bootcamp.