Get fired up for the arts with us !
May 16 from 2:00 – 6:00 PM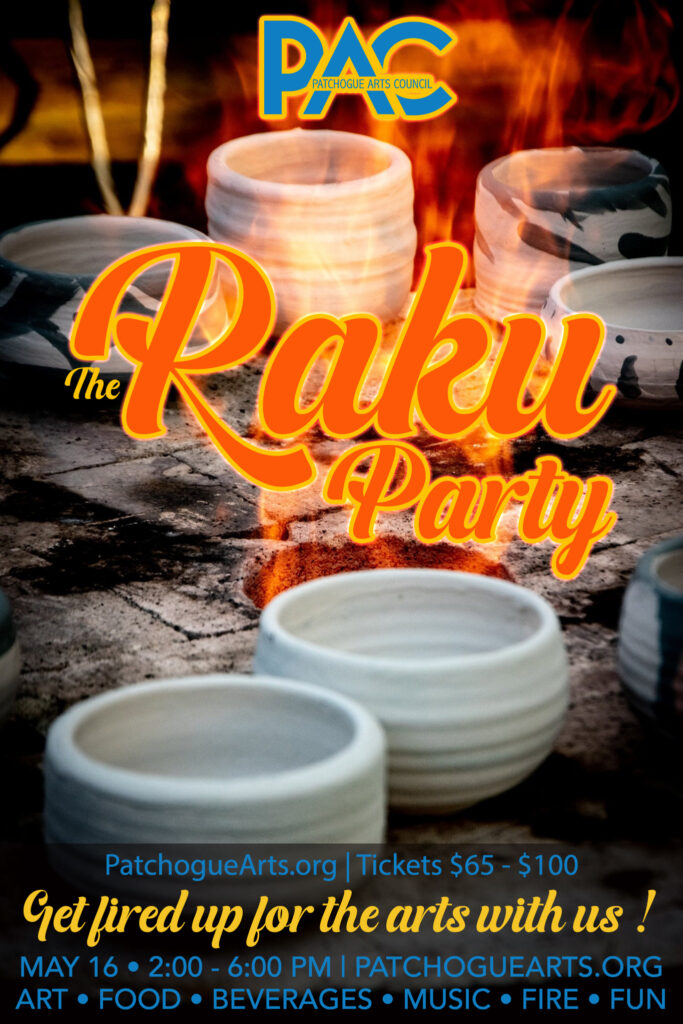 Annual RAKU Fundraiser 2021An annual PAC tradition. Join us for our 12th Raku Party! A very limited number of guests will be led through the steps of glazing and firing by master potter, artist Bill Shillalies. This event is held outdoors, we will maintain social distancing and safety procedures for the health of all our guests, staff, and volunteers. Food, beverages, beer, music, and the company of interesting people! Live music TBA. Sparks will be flying from the stage and the kiln.
Tickets:
$85 pp includes glaze, firing for 1 pot
$100 pp double your fun with 2 pots while you support the work of the Patchogue Arts Council.
Additional pots will be available for $20.

Have enough pottery? You may enjoy the process as an observer for $65.
PAC• MoCA L.I. Merch will be available on site.

*Location is a private home located in Sayville. Once your tickets are purchased you will receive the address information.
All proceeds go to the Patchogue Arts Council recovery fund. Help us keep the arts burning bright!

What is Raku? Raku is a modern adaptation of an ancient Japanese firing technique. Glazed bisque ware is rapidly brought to high temperatures, and while the pieces are red hot they are removed from the kiln and placed into a bed of sawdust. Flames erupt, which are quickly snuffed out by placing a large pail over the fire. Robbed of oxygen, the fire seeks other sources in the clay body and glaze causing unique effects such as iridescence, much as rust can be returned to iron by 'reducing' oxygen or as fireworks burn bland metallic oxide powder into intense color.

Each participant will receive a 'glaze ready' bowl and will apply personal and unique glaze patterns. After the pieces are 'rakued' there is a brief cooling period after which they are scrubbed and ready to take home!

This special RAKU session will be lead by master potter, artist, and professor Bill Shillalies. If you know him you love him and if you don't you'll have to come and meet him!

Spaces are limited so reserve your place soon. Please make checks payable to The Patchogue Arts Council, email info@patchoguearts.org to reserve your space
---
ABOUT THE PATCHOGUE ARTS COUNCIL
The mission of Patchogue Arts Council, Inc. is to ambitiously educate, support, and elevate the arts- community. This includes artists at all stages of their careers as well as supporting the development of new works and public projects through exhibitions and innovative programming that emphasize community engagement while aiding in the revitalization and sustainability of the community. The Patchogue Arts Council, Inc. is a 501(c)(3) non-profit corporation whose programming supports arts across all of Long Island.
ABOUT MOCA L.I.
Museum of Contemporary Arts Long Island (MoCA L.I.) is the exhibition space of the Patchogue Arts Council (PAC).
By redefining PAC's exhibition space from Gallery to Museum, opportunities for the community and the artists we serve grows exponentially. PAC has always been unconventional in comparison to other arts councils. Our primary focuses are to make current and contemporary art accessible to everyone and to serve artists across Long Island. We work to create inclusiveness in all of our opportunities for Long Island's Spanish-speaking communities as well. Through our programming, we support, promote, and encourage early, mid-career, and established artists working in all media and all walks of life.
The Patchogue Arts Council is located at 20 Terry St., Suite 116, Patchogue NY. For more information visit www.patchoguearts.org. Email info@patchoguearts.org.
---
Please help us continue to provide free programming and artist resources like the above!
[wpedon id=5662