OUTDOOR SCULPTURE | JUNE – NOVEMBER 2021
OPEN CALL FOR OUTDOOR SCULPTURE
The Patchogue Arts Council is pleased to announce it is accepting submissions from sculptors to exhibit an outdoor sculpture in Patchogue Village during the summer of 2021. Sculptures will be installed in the Patchogue Garden Club Community Garden from June – November 15, 2021 as a component of PAC's festival season. Sculptures will remain installed through the end of October in coordination with the organization's Coming of Age 2021 festival season.
Multiple sculptures will be installed in the Patchogue Garden Club Community Garden, and sculptors are encouraged to submit existing works or new works for consideration. Artists will be awarded a stipend for works that are selected. The Visual Arts Committee of the Patchogue Arts Council will review all submissions. All artwork will be on view outside, in public spaces, and must abide by safety protocol and procedures. All work must be constructed from materials that can withstand all types of weather, be appropriate for public spaces and impervious to interaction with the public.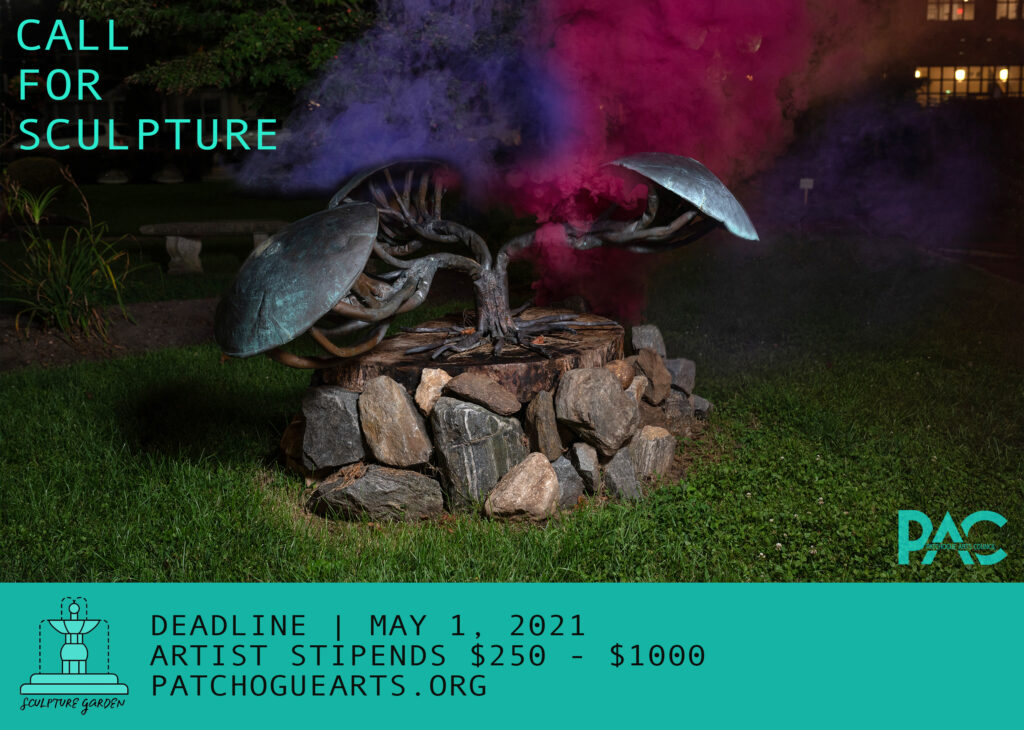 REQUIREMENTS & RESTRICTIONS
Collaborations are permitted, but stipends are per sculpture, not per artist.
Submission of work indicates that the artist has an understanding that PAC assumes no responsibility for any damage or loss; in addition, artists will be required to sign a waiver.
Submissions must include images for existing work or proposal plans for new work.
SUBMISSION DETAILS
Submissions due BY May 1, 2021
Artists will be notified through email no later than May 15, 2021.
Subject line must include: SculptureGarden2021_YourName.
Email your submissions to: info@patchoguearts.org
Only submissions to this email address will be considered.
EMAIL SUBMISSIONS GUIDELINES
Please submit 2 images total of each sculpture.
All files should be labeled with your name and title of work. Ex: Yourname_titleofwork.jpg
If submitting a new work, include in your design plan's dimensions, a materials list, a detailed budget, 2 preparatory drawings, and a list of detailed installation instructions.
If submitting an existing work, please include 2 images of the work along with the dimensions and detailed installation instructions.
The body of your email must include image details including title, medium, size, & date.
All artists must include two of the following: CV/resume, bio, or an artist statement.
Submissions that do not follow ALL of the above guidelines will not be considered.
Only digital submissions sent by end of day May 1, 2021, will be considered.
Stipends range from $250 – $1000.
NO SUBMISSION FEES  • ARTIST STIPEND PROVIDED
PATCHOGUEARTS.ORG | INFO@PATCHOGUEARTS.ORG