PAC Alfresco
Patchogue Arts Council presents Pop-up outdoor art happenings!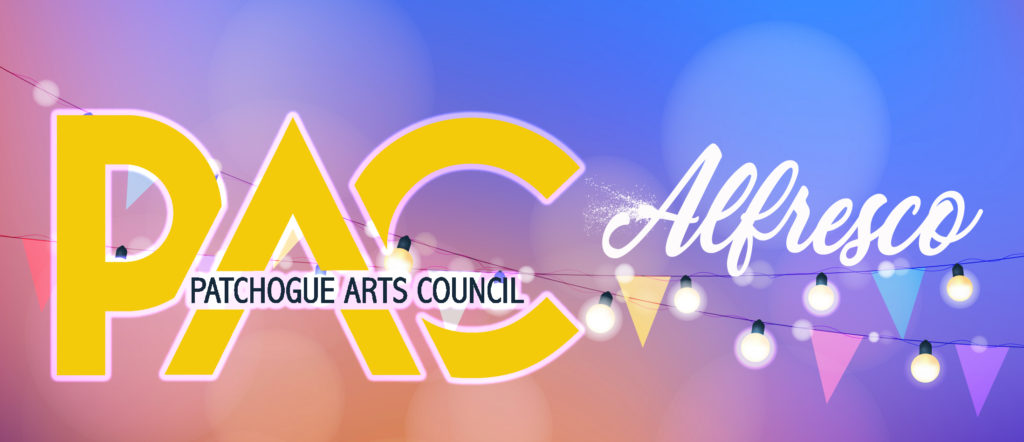 Keep a lookout for the PAC Alfresco logo and join us outside for a social distance friendly arts experience a la PAC!
Sunday, July 12th from 12 – 7 PM
Live Painting with Artist Amanda Reilly(exact painting location will be announced on social media day of the event)
Annual mural with Jayne Dion
Join us outside and come watch (from a safe distance)
Artist Amanda will be wielding her paintbrush to create a 4×7 foot painting from start to finish during the Patchogue Village "Sunday in the Streets" outdoor dining event.
Artist Jayne Dion will be working on "Optical Guardianship" her original concept for the annual mural on the Southside of the Pat-Medford Library.
It wouldn't be a Patchogue experience without the Arts!
Come watch two of our favorite Long Island Artists and maybe even bid on the painting you've watched come to life!
All works created during PAC Alfresco events will be available by auction onsite.
All proceeds are split 50/50 with the artist and PAC.
Please note "Sunday in the Streets" is by reservation only!
Visit this link to see participating restaurants
About Amanda Reilly
As an image-maker and creative force within the New York area, Amanda's philosophy that surrounds the work she creates is about completely embracing the bold, bizarre, and grotesque. A colorist and lover of twisted imagery. Her skills range from illustration, large scale mural painting, graphic design, and embroidery. She also is an on-location artist that derives inspiration by traveling to various cabaret, burlesque and sideshows, drawing the performers live. Former Director and co-creator of Sideshow Sketch Night, whose mission is to merge the boisterous and colorful world of the NYC sideshow and cabaret scene with the young growing art scene of Long Island. Holding various themed costumed live drawing events throughout Long Island, NY.
About Jayne Dion
New York-based artist Jayne Dion, began her art career 30 years ago as a muralist for prominent Newport coast homes in California. This exposure led her to become the resident artist, lead set designer, and prop stylist for Anton Segerstrom at South Coast Plaza West, a luxury shopping center located in the heart of southern California. Her desire for more inspiration took her outside California's plethora of museums and theaters to New York City and then to Long Island, rich in culture and deep history. After many years of vacationing along the Great South Bay, Jayne now calls the Village of Patchogue home.
Primarily a self-taught artist, Jayne went back to college at age 45 to study and improve the lights and shadows in her work. She not only earned a certificate in illustration and animation with the vision of bringing her drawings and paintings to life, she is also a proud member of Phi Theta Kappa. Jayne's art is inspired by her love of vintage photography, life experiences, dream interpretations, and the perpetual observance of strangers. Although she is trained in multi-medias of ink, oil, clay, bronze casting, and metal fabrication, which she has used in all of her body of work, Jayne's preferred medium is the one she first learned – graphite. Wood pencils elevated into the form of mechanical pencils and graphite powder applied by brush.
Jayne's passion for creating art began long before her career as a muralist, when one of her pencil drawings was published in 1980, at age 14, for a book of student poetry. Since then she has been published 3 additional times: The WALL, Literary Journal, Volume XII, 2012, volume XIII, 2013, and volume XIV, 2014 as well as a feature in the December 2011 issue of O.C. Magazine, A Day in the Life of, for her work as a set designer, and in the December 2018 issue of S. D. Voyager, Art and Life with Jayne Dion. In January of 2018, Jayne decided it was time to launch her career as an independent fine artist.
---
Please help us continue to provide free programming and artist resources like the above!