Written by Tara Smith for Long Island Advance
https://www.longislandadvance.net/4455/Mural-for-Summer-of-Love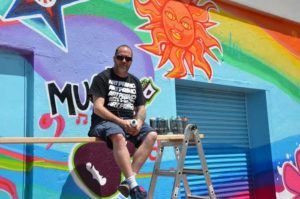 Jonny Mike lifted a can of spray paint and swept it across the rear surface of the Patchogue-Medford Library. While working on the Patchogue Arts Council mural last weekend, the artist, who rarely uses his full name — 'Jonny' Michael Hollingworth — admitted that it felt a little weird to be spray painting the side of a building in broad daylight.
Hollingworth, 51, began practicing graffiti in 1990. "I started out doing bubble letters and tags on street signs," he recalled. "Then I picked up a camera to document abandoned buildings where we would paint. For me, it was a safe spot, a blank canvas."
As he aged, he knew he wanted to create art with spray paint — a medium he familiarized himself with during those years of tagging. But there's a fine line between 'street art' and 'graffiti.' "As you get older, you don't really want to break the law anymore," he said. Though he traded cans of spray paint for a graphic design job, Hollingworth kept a wall in his backyard for his artist friends and him to tag up when they got inspired.
When the PAC put out a call for a muralist last winter, Hollingworth was hesitant to submit. "Originally, Dave Rogers asked me to be a live street artist," he said, for Arts on Terry. Then he heard about the mural. "[Dana] said, 'You've got to do this. If you don't, you'll be watching someone else paint from your window and be kicking yourself,'" he said, recalling a conversation with his girlfriend that changed his mind. Hollingworth's vivid design was selected for the 15-by-45-foot wall. "I was super stoked when I found out."
Despite the rain, Hollingworth got started on May 13 and is still putting the finishing touches on his work, adding slowly in layers each day. The mural will serve as the backdrop for the PAC's Arts on Terry street festival next Sunday, June 4.
Hollingworth's mural bursts with color and nods to traditional hippie symbols: flowers, peace signs, hearts and the words 'love' and 'peace.' He still has to add groovy lettering as well as a Volkswagen "hippie van" and a bell-bottomed girl. "This is the biggest project I've ever done by myself," he said, adding that he has enjoyed the experience so far. "People have been very positive about it. I love when people stop because I like to talk," he said. As he stopped to talk with the Advance Sunday, a woman interrupted to compliment his awesome progress. "I love that I can put my mark on this wall so that people can enjoy it," he said, adding that he's already caught a few people taking pictures in front of the colorful wall.
Newly appointed PAC director Beth Giacummo-Lachacz said that Hollingworth's was one of over a dozen designs submitted by New York artists. "Jonny Mike's proposal for the mural was the perfect phantasmagorical composition capturing the spirit of the Summer of Love," she said. "His use of color combined with iconic symbols of the time period made it easy for the visual arts committee to choose his proposal."
Taking him shopping for supplies was a fun day out of the office, she said. "He was like a kid in a candy store. As an artist myself, I completely relate to his excitement of choosing supplies without worrying about the financial burden," Giacummo-Lachacz added, noting PAC's budget was $2,000.
The background alone, he explained, took about 30 cans, though he had only emptied about a dozen in his first week of painting. "That's how good this paint is," he said, holding up a can of Flame spray paint. "I don't think I'm going to use all 240 cans."
It's his largest work in Patchogue, but not his last. Hollingworth said he is planning to recreate the famous "Great Wave" painting by Katsushika Hokusai at The Wave gas station, and is in talks with other artists to collaborate on an outdoor music mural at the newly opened Record Stop.
Artspace resident Jean Wesnofske also stopped by to check out his progress. "I love that I get to see this when I wake up in the morning," Wesnofske said. "I usually just see a parking lot, but now I see a burst of color."
As Hollingworth finished up on Sunday, he debated whether to paint a heart or a peace sign in an empty space, eventually deciding on the peace sign. "You've got to draw the peace sign the right way, or else the hippies get mad," he said, pointing to the curved lines within the circle. It's something he's learned along the way. Coming up on the 50th anniversary of the Summer of Love, Hollingworth said he embraces those values, though he was only born one year prior in 1966. "I wasn't around for the summer of love, but I know what it means to love music, love art and love people."