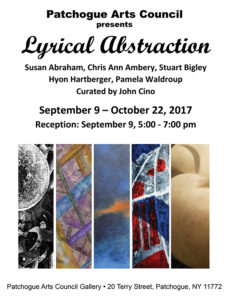 PATCHOGUE ARTS GALLERY PRESENTS
Lyrical Abstraction
Curated by John Cino
September 9 – October 22, 2017
Reception: Saturday, September 9, from 5:00 to 7:00 PM
The Patchogue Arts Council is proud to present Lyrical Abstraction, a group exhibition curated by John Cino. The exhibition features the artwork of Susan Abraham, Chris Ann Ambery, Stuart Bigley, Hyon Hartberger and Pamela Waldroup. The exhibition is on view at the Patchogue Arts Gallery from September 9 to October 22, 2017, with an opening reception on Saturday, September 9, from 5:00 – 7:00 PM.
What:   Lyrical Abstraction
When:   September 9 – October 22, 2017
Where: Patchogue Arts Gallery, 20 Terry St., Suite 116, Patchogue, NY 11772
Cost:   Free and open to the public
Whether working purely from imagination or from deep abstractions of visual phenomena, the artists of Lyrical Abstraction focus on the formal relations within each piece. As subject matter is eliminated, each artist's primary consideration becomes line, shape, color, mass, and/or rhythm. Their work tends to emulate the effects of music, following in the footsteps of Whistler and Kandinsky.
ABOUT THE PATCHOGUE ARTS COUNCIL – The Patchogue Arts Council, Inc., was formed to encourage, support, and promote the arts while aiding in the revitalization and sustainability of the community. The Patchogue Arts Council, Inc. is a 501(c)(3) non-profit corporation whose focus is to serve the greater south shore of the Town of Brookhaven. The Patchogue Arts Council is located at 20 Terry St., Suite 116, Patchogue NY and is open Thursdays and Fridays, 2:00 – 7:30 PM, Saturdays and Sundays, 1:00 – 5:00 PM. For more information visit www.patchoguearts.org, call 631-627-8686, or email info@patchoguearts.org.