PATCHOGUE ARTS COUNCIL • MOCA L.I.
Generations of Color
Curated by John Cino
January 16 – February 27, 2021
Artist Reception: January 16, 2021 5:00 – 7:00pm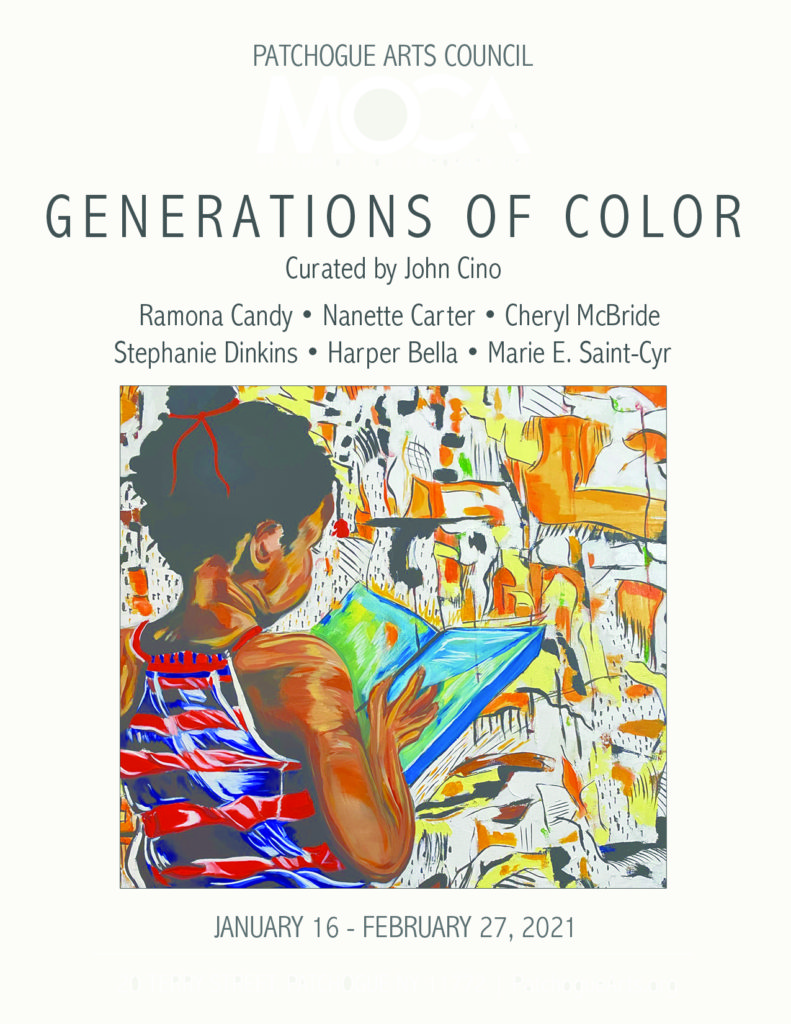 The Patchogue Arts Council • MOCA, LI is proud to present Generations of Color from January 16 through February 27, 2021.
The Patchogue Arts Council (PAC) and the Museum of Contemporary Art Long Island (MoCA LI) the 2021 year with a coming of age theme in its first exhibition Generations of Color. Generations of Color celebrates the wisdom tradition and powerful voices of African American women in our nation. This long time cultural phenomenon has taken a prominent forward in the nation's psyche and political arena with the work of Stacey Abrams et al and the inauguration of Kamala Harris as the Vice-President of the USA. Generations of Color brings together female African American artists across the age spectrum working in a variety of media, each with a unique voice united by their successes in a world that has put barriers of both race and gender before them. The artists of Generations of Color include Ramona Candy, Nanette Carter, Cheryl McBride, Stephanie Dinkins, Harper Bella, and Marie E. Saint-Cyr.
Ramona Candy has had a long career in African American arts, has been an original member of DanceAfrica. In collages and paintings, she is inspired by the vivid colors of her Caribbean heritage and youth in Brooklyn. Her most recent works are a series of collaged portraits Our History, Our Pride which "give sight and relevance to Black men and women in American history."
Nanette Carter uses "an abstract vocabulary of form, line, color and texture" in her series Cantilevered and Weight to offer discourse on a conundrum facing people of color "responding to social injustice while maintaining responsibilities to family, jobs and friends". Painting on frosted Mylar to achieve "maximum luminosity, density and transparency" she creates a dynamic tension between harmony and discord.
Graphic designer Cheryl McBride has recently turned her attention to art making which "confronts the social issues of our time". She evokes the ground breaking working of W. E. B. DuBois who "used colorful charts, graphs and maps to help bring attention to the circumstances of the American negro(of his) time." McBride's works are text based using color to show inequities in present day America.
New media artist Stephanie Dinkins attributes her career path to the wisdom of her grandmother who settled in Staten Island after migrating north during the Great Migration. Her grandmother's "creativity and ingenuity …were necessary for survival in her world." She employs photography, "emergent technologies, and community engagement to confront questions of bias in AI, data sovereignty and social equity".
Photographer Harper Bella works creates an intersection of global and local perspectives, regular international travel combines with observations of her home "to initiate conversation and spark growththrough powerful visuals." In her recent project And the Award Goes to…. she brings recognition to "the black and brown essential workers who have kept their communities thriving amid the COVID-19 crisis, by creating impromptu ceremonies. Her photographs record the reactions of the previously unrecognized to their new award winning status.
Marie E. Saint-Cyr creates colorful paintings which creates hybrid interior/exterior spaces. She draws from her early years in Haiti and current life on Long Island to combine "the charm and vibrancy of Caribbean pastorals alongsidethe urgency and layered energy of urban landscapes". She is an arts advocate in her community and beyond earning recognition for community based projects while developing entrepreneurial arts based career.
Generations of Color creates visual conversations across generations in MoCA LI from January 16 through February 27. The conversation continues with a virtual panel Coffee with the Curator Talk , February 6 from 10:00 AM – 12:00 cohosted by Patchogue Medford Library.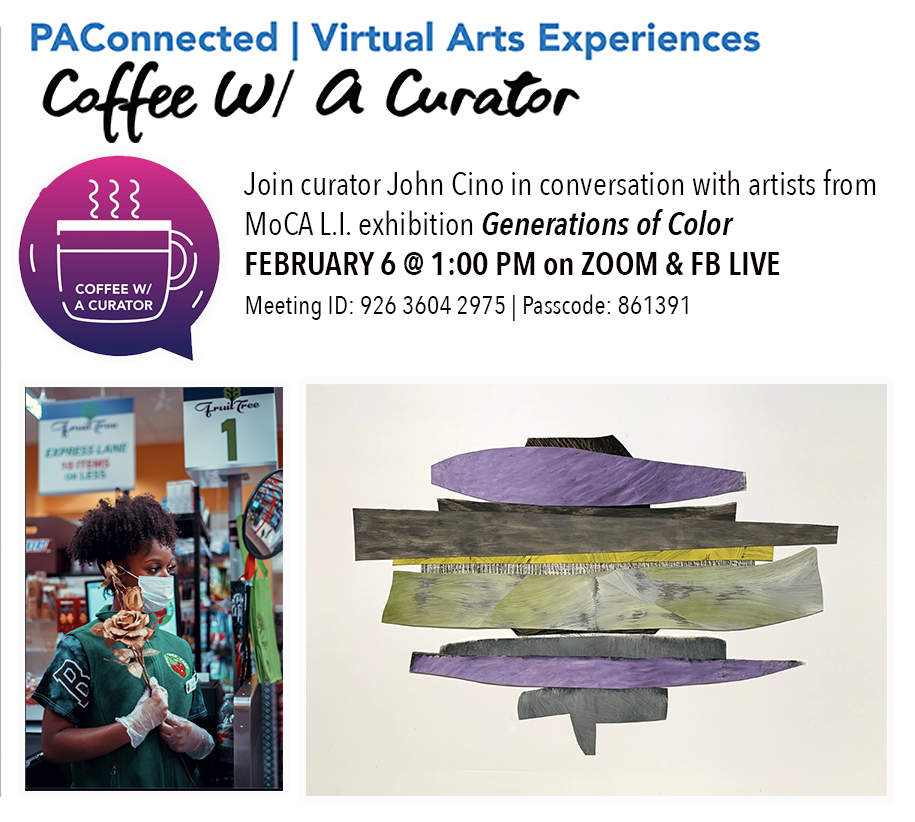 Artist's Virtual Panel Discussion
Coffee with the Curator (VIRTUAL EVENT)
February 6 @ 1:00 PM .
Co-hosted by Patchogue Medford Public Library
Saturday, February 6 @ 1:00 PM
Coffee with a Curator | Artists from Generations of Color
Coffee with a Curator brings together the artists in Generations of Color on exhibit at PAC MoCA LI from January 16 – February 28. Generations of Color celebrates the wisdom and growing voices of African American women in the US. The exhibition brings together artists who span the age spectrum while making offering art in diverse media and content. Included in the exhibition are Ramona Candy, Nanette Carter, Cheryl McBride, Stephanie Dinkins, Harper Bella and Marie St. Cyr. During this artist's round table moderated by curator John Cino, the artists will discuss their work, inspiration and background.
Ask about a free Coffee with a Curator collectors mug and coffee!First 25 signups can pick up their mug from the PMLIB.
Join Zoom Meeting
Direct Zoom Link
Meeting ID: 926 3604 2975
Passcode: 861391
---
ABOUT THE PATCHOGUE ARTS COUNCIL –The Patchogue Arts Council, Inc., was formed to encourage, support, and promote the arts.
The Patchogue Arts Council is located at 20 Terry St., Suite 116, Patchogue NY.
For more information visit www.patchoguearts.org, call 631-627-8686, or email info@patchoguearts.org.
---
Please help us continue to provide free programming and artist resources like the above!
More MoCA LI Exhibits