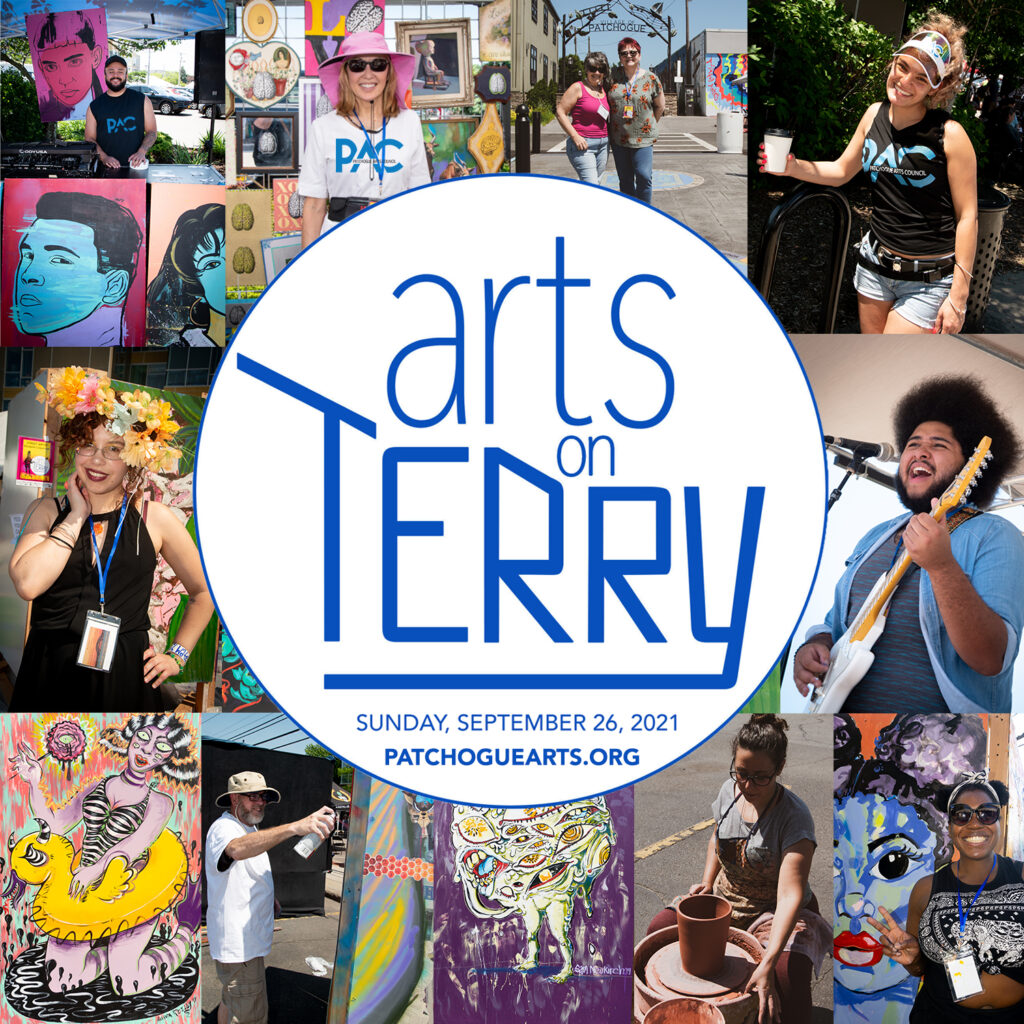 IT'S BACK…..
ARTS ON TERRY | Sunday, September 26 , 2021
Arts on Terry ( AOT) is a contemporary art fair for all ages highlighting 300+ artists from a variety of Long Island Arts organizations, each exhibiting a curated selection of works representing its respective community in 15+ different pop-up galleries, 25+ individual artist booths, 15+ street artists. AOT will also include a full day of art exhibits, demonstrations, live painters, family-friendly activities, live music, poetry, and performances, all on Terry Street, Patchogue's official arts district!
CALLS FOR ARTISTS are officially now open. There are a number of different ways for an artist to participate. Below are three different open calls. You do not have to be a member to apply for an Artist Booth space or to be a Street Artist / Live Painter.
If you are an arts organization, gallery, or museum that has never participated in AOT please email your interest to info@patchoguearts.org for more information on how to participate!
ARTISTS… Click below for more information for each opportunity
ESTÁ DE VUELTA…..
ARTS ON TERRYDomingo, 26 de septiembre de 2021
Arts on Terry (AOT) es una feria de arte contemporáneo para todas las edades que destaca a más de 300 artistas de una variedad de organizaciones de artes de Long Island, cada una de las cuales exhibe una selección curada de obras que representan a su comunidad respectiva en más de 15 galerías emergentes diferentes, más de 25 individuales stands de artistas, más de 15 artistas callejeros. AOT también incluirá un día completo de exhibiciones de arte, demostraciones, pintores en vivo, actividades para toda la familia, música en vivo, poesía y actuaciones, todo en Terry Street, el distrito artístico oficial de Patchogue!
LAS CONVOCATORIAS PARA ARTISTAS ya están abiertas oficialmente. Hay varias formas diferentes de participación de un artista. A continuación se muestran tres convocatorias abiertas diferentes. No es necesario ser miembro para solicitar un espacio en el stand de artista o para ser Artista callejero / Pintor en vivo.
Si usted es una organización de arte, galería o museo que nunca ha participado en AOT, envíe un correo electrónico con su interés a info@patchoguearts.org para obtener más información sobre cómo participar.