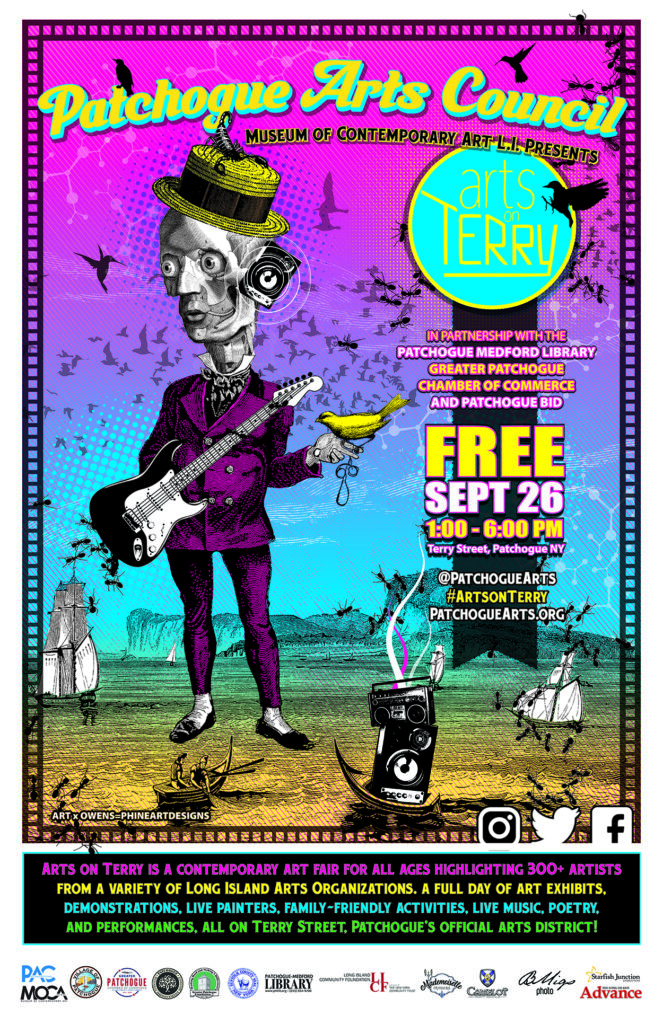 IT'S BACK…..
ARTS ON TERRY | Sunday, September 26 , 2021
Arts on Terry ( AOT) is a contemporary art fair for all ages highlighting 300+ artists from a variety of Long Island Arts organizations, each exhibiting a curated selection of works representing its respective community in 15+ different pop-up galleries, 25+ individual artist booths, 15+ street artists. AOT will also include a full day of art exhibits, demonstrations, live painters, family-friendly activities, live music, poetry, and performances, all on Terry Street, Patchogue's official arts district!
CHECK OUT THE OFFICIAL EVENT MAP!
DOWNLOAD YOUR MAP HERE
CULTURAL PARTNERS PAVILIONS
PAC • MoCA L.I. Members
Huntington Arts Council
Colored Colors
SEA of Visibility (SEA=Support Expression through the Arts)
Exhibition Curated by Anu Annam
Islip Arts Council
East End Arts
Babylon Citizens Council on the Arts, Inc.
PAC Sketch Group
PAC Photographer's Group
South Bay Art Association
Teatro Yerbabruja
Walt Whitman Birthplace Museum & State Historic Site
The Long Island Gay and Lesbian Film Festival Presents… The MOSAIC LGBTQIA+
Exhibit curated by Anu Annam
Art Educators of Long Island
Curated by Lisa Federici & Constance Sloggatt Wolf
ARTIST & GALLERY PAVILIONS
POP! Draw
Gallery North
Muñeca Arthouse
JGA Creations
Michael Mastermaker
Live painting & Music by Diego Garcia & Friends
Val Bisagni
Hillary Broder-Anderson
Hardtack Arts
Steven Calapai
Alexandra Checa
Tee Clare
Jac Dambrosio
The Art of Vincent Delisi
Audra Donroe Art & Gifts
Jen Gilroy
Sueey Gutierrez
Eve Hammer
Holly Hunt
Ianthe Jackson
Sherry Lake
Danielle Livoti
Fantasy Art by Michael
Madison Muehl
PhineArt Designs
AllOne: Write Through Me
Lynn Pisciotta
Moriah Ray Britt
Michael Sauer
Clarence Sheppard
Joe Stublick
Jonathan Van Brunt
Vera Worthington Fine Art
Voltar
Robert Stenzel & Priscilla Devi
Live performance
DEMO ARTIST PAVILIONS
Dance | Dancing Classrooms
Ceramics | Gather Studio
Mosaics | Gabriella Grama
Glass | Long Island Glass
Ceramics | Gina Mars
Jewelry | MerCurios Jewelry
Ceramics | Rooted Moon Artistry
Wood | South Shore Woodworks
Jewelry | Alison Loeffler
Henna | Freebird Henna
STREET ARTISTS | LIVE PAINTERS
Desn
Pbee
Michelle Ammann
Renee Andolina
Courtney Culkin
Patty Eljaiek
Nora Franzese
Takashio Hisayasu
Murjani Holmes
Dan Kudreyko
Sam Neukirch
Moriah Ray
Amanda Reilly
Caitlyn Shea
Zachary Sieglinger
Jeanette Wagner
CHILDREN'S PAVILIONS
Patchogue – Medford Library
Eastern Suffolk BOCES | Art in Education
Cornell Cooperative Extension | SW Suffolk
Think Big
MOCA L.I. @ 20 Terry Street
Museum of Contemporary Art Long Island
Then and Now
Ôn view September 11 – October 24, 2021
SCULPTURE GARDEN
Located on the corner of Terry Street & South Ocean Avenue
Bernard Klevikas
Brian McAuliff
Robert Kentner
Stephanie Rowe
Danial Brown
Laurence Lee
John Dunlop Sr.
Erin O'Reilly
Alyssa Denis
miniMoCA
Robert Stenzel | Roya Jenner | Maya Kawachi | Mark Propper
MURAL
Thematic Changing Mural Wall | Coming of Age 2021
Cicadian Rhythm by Caitlyn Shea
MUSIC AND POERTY SCHEDULE
L.I. Music Spotlight Stage
This year's Arts on Terry Spotlight Stage will feature a series of music performances curated in collaboration with Blue Owl Arts.
1:30 PM – 5:30 PM
MJT
Juan Tutergo
Squid and The Wave Chasers
The "Conversation"
Christine Sweeney
Kaido
Poetry Pavilion: Out of Isolation
This year's Arts on Terry poetry tent was organized and curated by Terri Muuss and Matt Pasca and includes poets from all across Long Island.
Hosted by Terri Muuss
2:15 – 2:30 | Navpreet Singh
2:35 – 2:50 | Bri onishea
2:55 – 3:10 | Wayne mennecke
3:15 – 3:30 | Kenny Gordon
3:35 – 3:50 | Rosa Todaro
3:55 – 4:10 | Deb Hauser
4:15 – 4:30 | Rainer pasca
4:35 – 4:50 | Mark Bennett
4:55 – 5:10 | Kristen Bennett
5:15 – 5:30 | Luis Solano
5:35 – 5:50 | Matt Pasca

SUBMISSIONS ARE NOW CLOSED!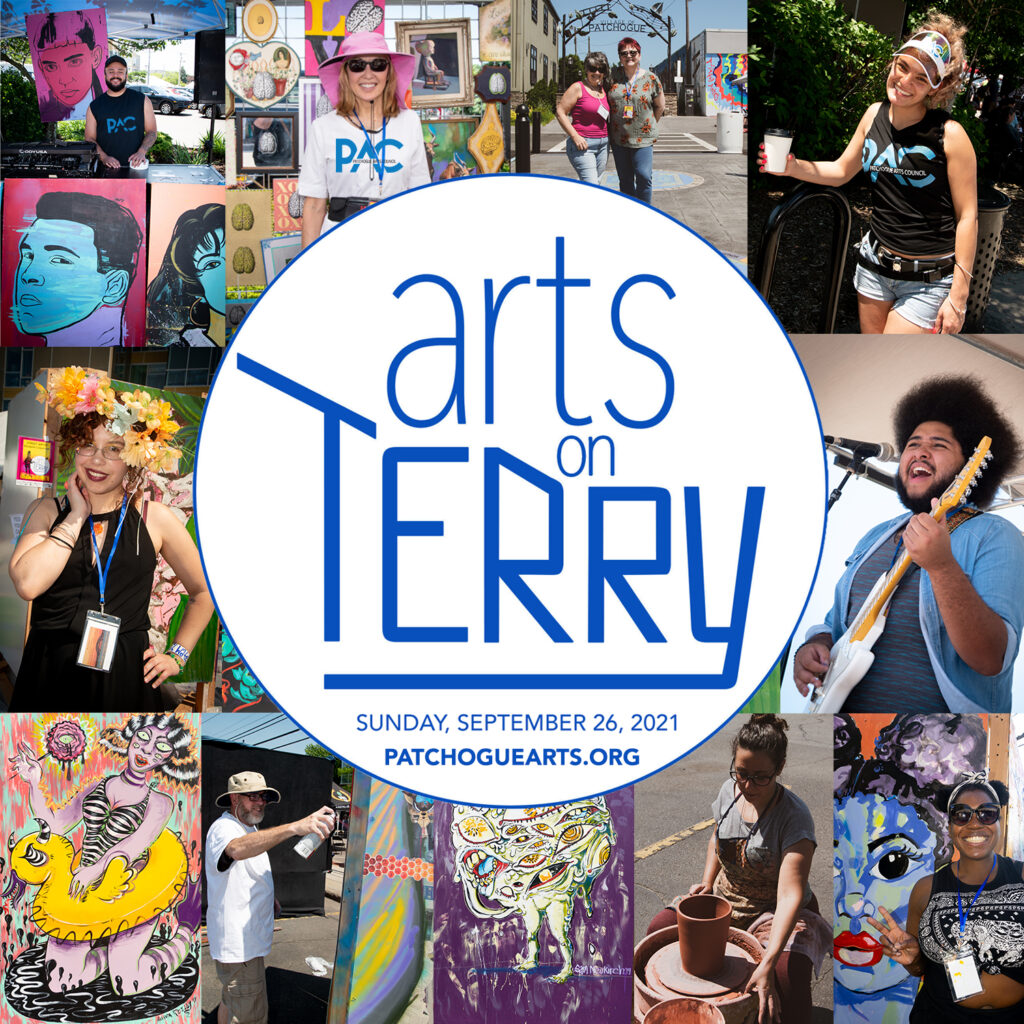 CALLS FOR ARTISTS are officially now open. There are a number of different ways for an artist to participate. Below are three different open calls. You do not have to be a member to apply for an Artist Booth space or to be a Street Artist / Live Painter.
If you are an arts organization, gallery, or museum that has never participated in AOT please email your interest to in[email protected] for more information on how to participate!
ARTISTS… Click below for more information for each opportunity
ESTÁ DE VUELTA…..
ARTS ON TERRYDomingo, 26 de septiembre de 2021
Arts on Terry (AOT) es una feria de arte contemporáneo para todas las edades que destaca a más de 300 artistas de una variedad de organizaciones de artes de Long Island, cada una de las cuales exhibe una selección curada de obras que representan a su comunidad respectiva en más de 15 galerías emergentes diferentes, más de 25 individuales stands de artistas, más de 15 artistas callejeros. AOT también incluirá un día completo de exhibiciones de arte, demostraciones, pintores en vivo, actividades para toda la familia, música en vivo, poesía y actuaciones, todo en Terry Street, el distrito artístico oficial de Patchogue!
LAS CONVOCATORIAS PARA ARTISTAS ya están abiertas oficialmente. Hay varias formas diferentes de participación de un artista. A continuación se muestran tres convocatorias abiertas diferentes. No es necesario ser miembro para solicitar un espacio en el stand de artista o para ser Artista callejero / Pintor en vivo.
Si usted es una organización de arte, galería o museo que nunca ha participado en AOT, envíe un correo electrónico con su interés a [email protected] para obtener más información sobre cómo participar.