PATCHOGUE ARTS COUNCIL • MOCA L.I.
Sidling
Kathryn Ko • Puneeta Mittal • Barbara Rocco
Curated by John Cino
March 13 – April 25, 2021
Coffee with a Curator March 20 @11:00 AM
Closing Artist Recption April 25 from 2:00 PM – 5:00 PM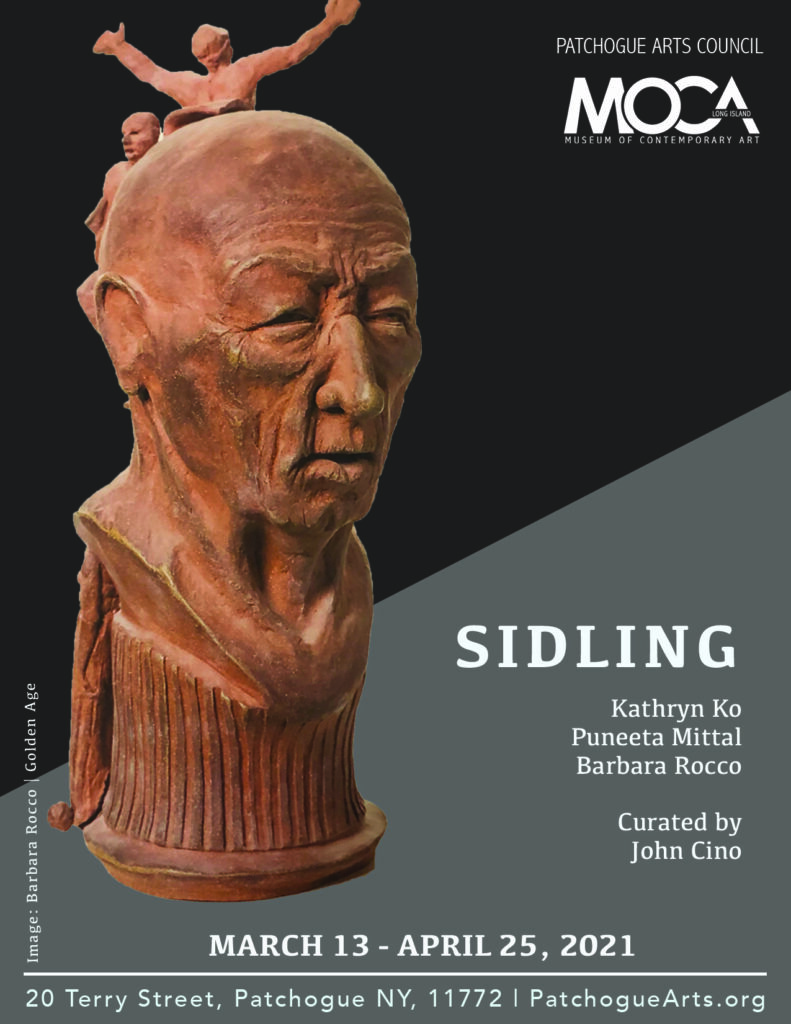 WHAT: MoCA L.I Exhibition SIDLING
WHEN: March 13 – April 25, 2021
WHERE: Patchogue Arts Council • MOCA L.I., 20 Terry St, Suite 116, Patchogue, NY 11772
PATCHOGUE, NY, February 18 The Patchogue Arts Council • MOCA, LI presents our newest exhibition Sidling running from March 13 – April 25, 2021.
The Patchogue Arts Council is pleased to announce a special Spring exhibition entitled Sidling. This exhibit brings together three Long Island-based artists all showing works influenced by shared experience or interest. It includes work by Kathryn Ko, Puneeta Mittal, and Barbara Rocco, and is curated by John Cino.
The Sidling-thread weaving these artists together is their encounters with cancer: medically and personally.
Artists are typically linked through form or subject matter. "Sidling" is the term for the sideways locomotion of crabs, and the artists of Sidling are linked in a side-wise fashion based upon their experiences. – John Cino
Viewers are invited to experience Sidling at the Patchogue Arts Council Museum of Contemporary Art Long Island from March 13 – April 25, 2021. PAC•MoCA L.I is located at 20 Terry St., Patchogue, New York.
Planned events include a reception on April 25 from 2:00 PM – 5:00 PM and a virtual panel discussion.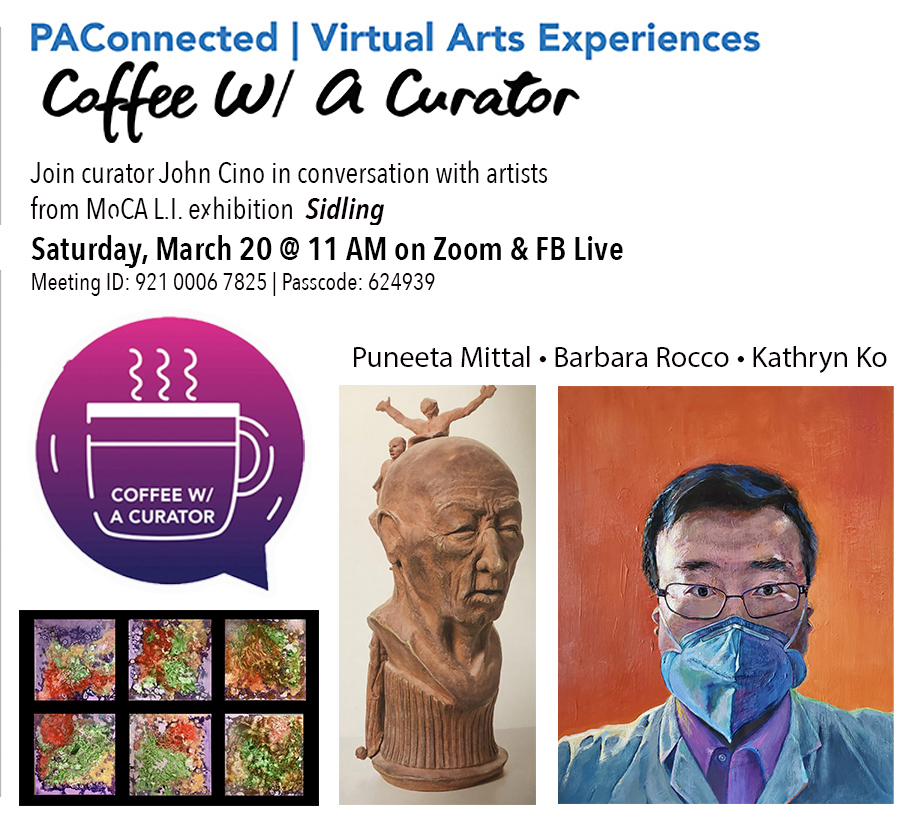 Also, the artists of Sidling will engage in conversation during Coffee with a Curator on Mach 20 at 11:00 a.m. All are invited to join us on ZOOM or watch along on Facebook Live. For more information please visit PatchogueArts.org
This exhibit and all coordinating events are free and open to the public.
Please note receptions are held outdoors weather permitting.
Masks are required upon entry into the gallery and guests are expected to practice established social distancing protocols. Hand sanitizer is available throughout the space. Currently, we permit only 4 guests in the gallery at one time.
---
For more information or an exhibition preview please contact
Beth Giacummo
Email: BethGiacummo@patchoguearts.org
Cell: (621) 806-4722
ABOUT THE PATCHOGUE ARTS COUNCIL
The mission of Patchogue Arts Council, Inc. is to ambitiously educate, support, and elevate the arts- community. This includes artists at all stages of their careers as well as supporting the development of new works and public projects through exhibitions and innovative programming that emphasize community engagement while aiding in the revitalization and sustainability of the community. The Patchogue Arts Council, Inc. is a 501(c)(3) non-profit corporation whose programming supports arts across all of Long Island.
ABOUT MOCA L.I.
Museum of Contemporary Arts Long Island (MoCA L.I.) is the exhibition space of the Patchogue Arts Council (PAC).
By redefining PAC's exhibition space from Gallery to Museum, opportunities for the community and the artists we serve grows exponentially. PAC has always been unconventional in comparison to other arts councils. Our primary focuses are to make current and contemporary art accessible to everyone and to serve artists across Long Island. We work to create inclusiveness in all of our opportunities for Long Island's Spanish-speaking communities as well. Through our programming, we support, promote, and encourage early, mid-career, and established artists working in all media and all walks of life.
The Patchogue Arts Council is located at 20 Terry St., Suite 116, Patchogue NY. For more information visit www.patchoguearts.org. Email info@patchoguearts.org.
---
Please help us continue to provide free programming and artist resources like the above!
More MoCA LI Exhibits