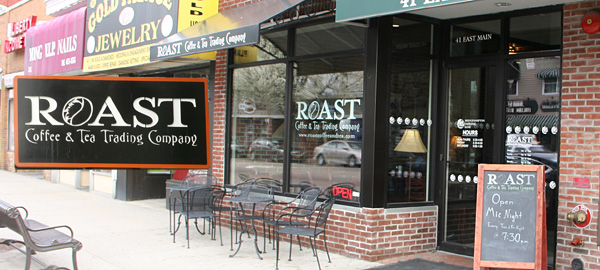 Solo & Group exhibits of distinct vision by regional artists are presented to visitors of the Roast Coffee Gallery. Located at 41 E. Main Street, Patchogue, NY 11772
PAC Members Gallery at Roast is an alternative exhibition space dedicated solely to the members of the Patchogue Arts Council. Members are given solo exhibitions at the discretion of Roast Coffee and the Patchogue Arts Council. 6-7 artists are exhibited per year with each exhibition running for 6 weeks.
Submission Details
All members in good standing of the Patchogue Arts Council are invited to submit for consideration. Artists must submit the following information to galleries@patchoguearts.org.
6-10 jpg images
Artist statement
Resume/Bio/CV
Only accepted artists will be notified once a space opens up in the exhibition schedule. In the subject line of the email, please include RoastGallery_ArtistName. Emails that omit any of the requested information will not be considered.
About Roast Coffee & Tea Trading Company
We are a micro-roaster located at 41 East Main Street in Patchogue, NY. A small family owned company located in the heart of Patchogue on Long Island.
We operate out of a small cafe and offer coffee direct to our retail customers and wholesale accounts to our wholesale coffee partners.
We tend to source single origin coffee green beans from around the world, roast them, brew them and serve them as single origin brews so that our customers can taste the different regions and how they compare to one another.
We conscionably and transparently source coffee green beans from around the world and use the highest quality ingredients for our teas.
Each coffee bean is unique. Like a fine wine each harvest yields a different taste. Test your coffee palate with us and enjoy the freshest most unique coffees the world has to offer.
Read more: http://www.roastcoffeeandtea.com
Mission Statement: The Patchogue Arts Council is dedicated to serving the community by encouraging, promoting and supporting the arts.