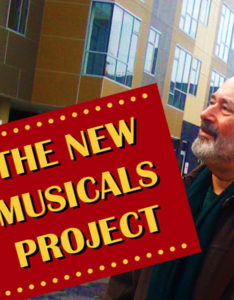 ARTIST STATEMENT
Howard Beckerman (M.A. in Applied Linguistics) is a composer, lyricist, playwright, community arts liaison, innovator in language education programs, photographer, and developer of original musicals. He founded the arts-entertainment-education company Heartworks International, Inc. in 1992.
He received two New York State Council on the Arts grants for his musical Married in the Suburbs (2001 and 2011) and he served as Project Director for the NYSCA-sponsored New Play Contest and Development Workshop series (2001). He received a JPMorgan Chase grant (2006) for Farmingville: The Musical, developed to encourage cooperation and artistic collaboration between English-speaking and Spanish-speaking residents.
With his wife, artist Linda Beckerman, he co-founded the not-for-profit Worldwide Voices, Inc. to facilitate arts and media collaboration by diverse cultural groups and by speakers of different languages.
Mr. Beckerman is the composer and lyricist of Halloween at Belvedere, an interactive family musical commissioned by the Central Park Conservancy, with NYC performances in 2002, 2003, 2004, and 2010—and revived at Patchogue Theatre for the Performing Arts in 2014 and 2015 as Boo! a family-friendly Halloween musical.
His bilingual children's musical Bullies and Bananas/Peleones y Guineos has been presented at the Huntington Public Library/Station Branch, Airport Playhouse, and at Suffolk County Unity Days. He was also the producer of the centennial video for the Patchogue-Medford Library.
Mr. Beckerman has produced many CDs of his original multilingual musical programs for international publishers and media companies, such as Berlitz, Warner Brothers, and Yale University Press. In the process, he has called on performers, musicians, theatrefolk, and educators from a variety of cultures to participate in his multilingual musical productions. He believes that musical theater can unite our communities, and his mission is to continue developing new musical and arts programs that embrace diversity in language and culture.