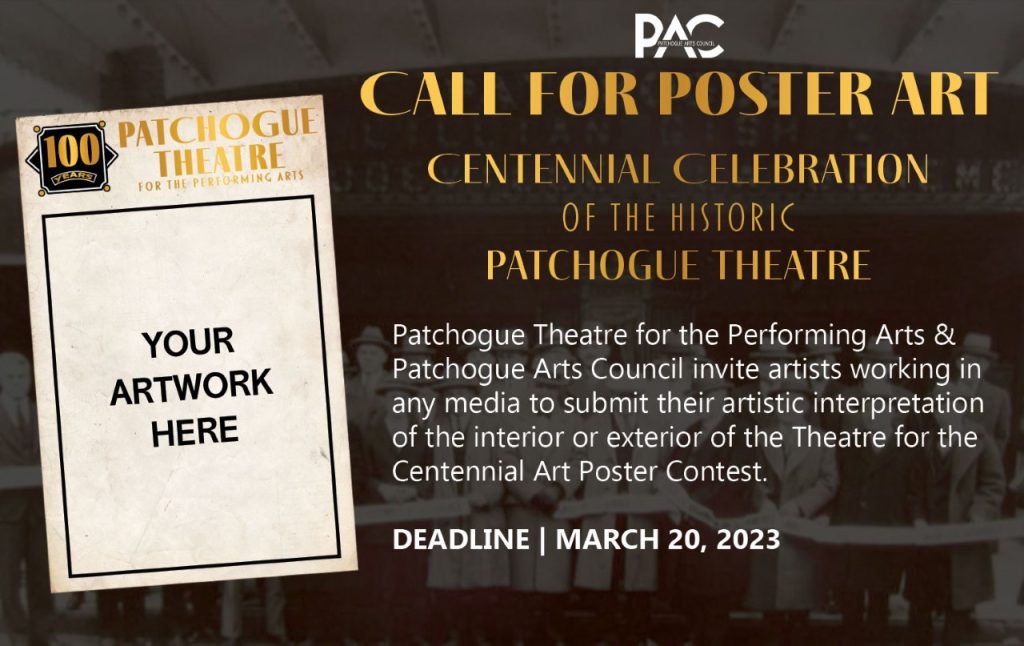 Centennial Celebration of the historic Patchogue Theatre for the Performing Arts
Help commemorate the historic architecture that has been one of the catalysts for the arts-centric revitalization of Patchogue Village.
ARTISTS | Call for poster art and centennial celebration exhibition.
Patchogue Theatre for the Performing Arts (PTPA) & Patchogue Arts Council (PAC) invite artists working in any media to submit their artistic interpretations of the interior and or exterior of the Theatre for the Centennial Art Poster Contest.
The PTPA is particularly interested in works with a historical aesthetic that encompass the spirit and historic importance of past 100 years of performance presented at the PTPA is encouraged!
If artists would like to visit the Theatre for inspiration, please feel free to visit during box office hours.
Artists are invited to submit a maximum of five artworks for consideration. One work will be chosen and used to create a commemorative centennial poster to be featured at a number of celebratory events, used in print, and digital materials during 2023 at the PTPA.
All works submitted will also be considered for a curated exhibition to take place in the Lobby Arts Gallery of the PTPA in partnership with the Patchogue Arts Council. All artists selected to participate in the exhibition will be invited to a special reception and can choose to have works available for purchase.
For a century, the Village of Patchogue has had a stage at the center of its community – the historic Patchogue Theatre venue that originally opened as Ward & Glynne's Theater in 1923. In its day, Patchogue Theatre attracted first-run feature films, Broadway productions, silent films, the very best in burlesque, vaudeville, and live music performances with acts such as Bette Davis, Eddie Foy and the Fabulous Foys, The Paul Whiteman Orchestra, The Marx Brothers, John Philip Sousa and Rose's Royal Midgets, to name a few.
After a fire hit the Theatre Lobby in 1958, the Theatre was redecorated and operated solely as a movie house, and in 1982, was turned into a "triplex," which it continued to operate as until 1987 when the building was closed. In 1996, the Theatre's interior was restored to its 1923 grandeur in several phases and Patchogue Theatre for the Performing Arts (PTPA) opened for business with its first performance in December of 1998.
The mission of Patchogue Theatre for the Performing Arts is to enrich, educate, and entertain a diverse audience by cultivating and showcasing a broad variety of performing artists. Patchogue Theatre serves as an innovative cultural resource for its community and the Long Island region by collaborating with neighboring organizations and fostering educational opportunities.
SUBMISSION DETAILS & GUIDELINES
Works in all media are welcome, including but not limited to: painting, drawing, printmaking, photography, and mixed media.
One design will be chosen to be used for a commemorative poster.
PTPA reserves the right to alter the chosen image as needed and will consult the artist as much as possible in the final design of the commemorative poster.
Please do not include extra text in your design.
Designs should be scanned and submitted as high-resolution files with a minimum DPI of 300. 11×17 inches (jpeg or pdf).
Each file submitted should be named artist's name Poster Submission_Title​ of piece_2023.jpeg
Please use the subject line: PTPA_Centennial Art Poster Contest and your name when submitting your work.
EX: PTPA_Centennial Art Poster Contest_Anna Johns
• Maximum of five submissions per artist
DEADLINE | March 20, 2023 (midnight)
Submissions must be emailed to [email protected]
Artist notifications March 25, 2023
Public announcement of the winner April 1, 2023
WHAT WILL THE CHOSEN ARTIST WIN?
Chosen artist will be recognized and awarded a $300 stipend for the use of their design, a copy of the final commemorative poster, 2 tickets to the 100th Year celebration event and PTPA merch basket! The original work will also be exhibited in coordination with all celebratory events.