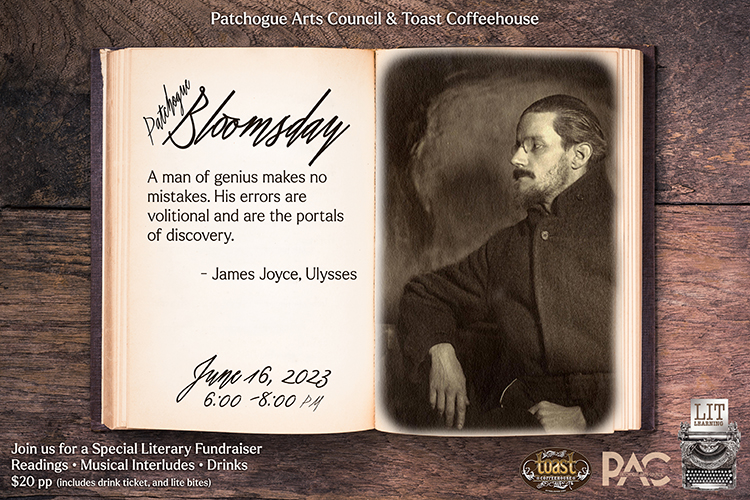 Patchogue Arts Council & Toast Coffeehouse partner for the second annual Patchogue Bloomsday
June 16, 2023 $20 pp (include a drink voucher and lite bites ) $10 raffle tickets at the door

What's that you may ask? A horticultural event?
No. It's a celebration of Irish author James Joyce's masterpiece Ulysses published in 1922 and celebrating its 101th birthday this year. Bloomsday has been celebrated in Dublin since 1954 and has been ever expanding to cities and towns around the world.
It occurs annually on June 16 because the entire 640-page novel takes place all on one day: June 16, 1904.
On June 16, 1954, poet Patrick Kavanaugh, and journalist-novelist Flan O'Brien with four other compatriots walked and rode in horse-drawn coaches on a pilgrimage through the streets of Dublin stopping at locations depicted in the book. As the day passed, a home movie captured their increasingly unsteady footing. Since then, it has become a more formal homage to the author and his book.

Bloomsdays now often center around individuals (often celebrities) reading excerpts from the famous (once infamous) book, and Irish musical interludes fill the space between the readings. In some locales, to mimic the original walk through Dublin, participants may travel from performance space to performance space which hardly by accident often are pubs, taverns, or bars. Some cities hold marathon readings in theaters.

This year PAC•MoCA L.I. in cooperation with Toast Coffeehouse will host the second annual Bloomsday celebration as a fundraiser on June 16 from 6:00 to 8:00 p.m. Join us for recitations, musical moments, and good cheer. Be part of the local literati!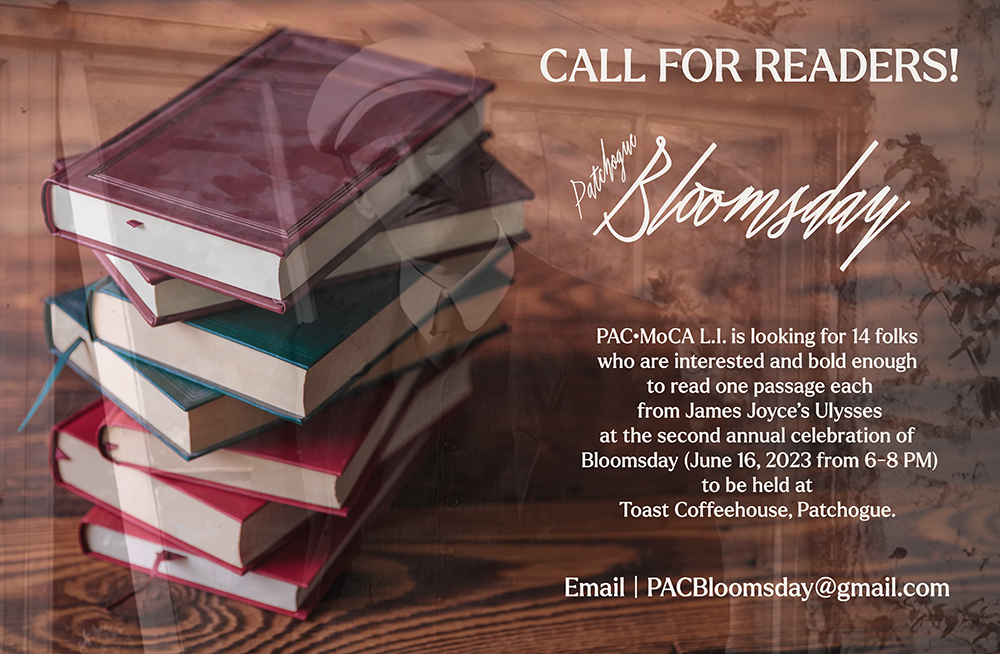 LOOKING FOR JOYCE'S VOICES
Be a Patchogue Bloomsday Reader….
PAC•MoCA L.I. is looking for 14 folks who are interested and bold enough to read one passage each from James Joyce's Ulysses at the second annual celebration of Bloomsday (June 16, 2023) to be held at Toast Coffeehouse, Patchogue.

Join us at this local celebration of the world-wide event celebrating Joyce's modernist masterpiece. It's an auspicious year for Joyceans and PAC/MoCA to launch this annual event because Ulysses turned 101 this February!

Readings will be separated with brief Irish musical interludes; food and libations will be available too.
Please note that volunteering is not a guarantee that you will be selected. Depending upon the number and nature of would-be participants, we may not be able to offer a slot to you. Fourteen is the maximum number. But in coming years there will be other opportunities to be among Joyce's voices.
If you are interested please email your contact information to us at [email protected]. See you on the 16th for "words so beautiful and sad, like music."