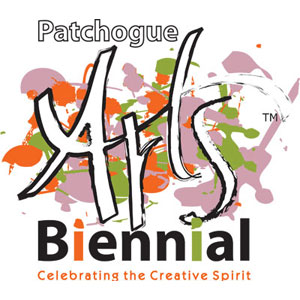 A 4 week event showcasing the work of Long Island artists from various disciplines and media that also introduces thousands of visitors to Patchogue's vibrant art community.
Patchogue Arts Council, Inc.
presents
The Patchogue Arts Biennial
Celebrating the Creative Spirit
October 3rd – October 24th, 2009
Artists: Karen Bell, Sandra Benny, Pam Brown, Jim Byrne, Linda Carlsen, Steve Ceraso, Karyn Cernera, Sue Contessa, Greg Corn, Andrea Cote, Ellen Dickinson, Ray Germann, Lee Heekin, Rachel Hines, Tony Ingrisano, Ugur Kunst, Bruce Lieberman, Anti Liu, Robert Mielenhausen, Puneeta Mittal, Carolyn Monastra, Laura Moriarty, Terry Nauheim, Christian Nicklaus, Clayton Orehek, Janell O'Rourke, Jason Paradis, Jennifer Gioe Peper, Roberto Perinuzzi, Jeffrey Allen Price, Judy Richardson, Maria Ritter, Lorena Salcedo-Watson, Bill Shillalies, Sally Shore, Richard Smith, Robert Toedter, Richard Vaux, Dawn Wakiya, Dan Welden, Marcia Widenor, and Flint Weisser
Long Islands Largest Art Exhibit of it's Kind – The Patchogue Arts Biennial
Powered by 100% Volunteers
WHO: Patchogue Arts Council [PAC] Board and Trustees, Patchogue Arts Biennial [PAB] Committee, PAC Members, PAB Volunteers, Patchogue Village Trustee PAC Liaison, Briarcliffe College, St. Joseph's College and many more local supporters of the arts [see full sponsor & volunteer list]
WHAT: The Patchogue Arts Biennial is Long Island's largest Arts Exhibit of its kind and will be held Oct. 3 – 24 in 12,000 sq. ft. exhibit hall. The goal of the event is to expand the communities view as to the trends, function and purposes of art in the 21st century. The Patchogue Arts Biennial will feature forty-four [44] artists representing a broad cross-section of artistic creativity that will each be given space to exhibit a representative body of work. The artists come from the entire island, Brooklyn to the East End and range in age from 25 to 80.
The exhibition's opening event on Saturday, October 3rd will feature a one-day sculpture garden on the perimeter of the campus of Briarcliffe College, and an artist reception from 2-5 pm with presentation about 3pm. Briarcliffe College is located at 225 W. Main Street, Patchogue.
WHEN: Saturday, October 3rd, 2009, 2 pm – 5 pm Opening Artist Reception
October 4th – 24th. Hours: Sundays 12 – 4 pm, Monday – Saturday 12 – 7 pm – morning viewings by appointment
WHERE: Briarcliffe College, 12,000 sq. ft. Exhibit Hall, 225 W. Main St., Patchogue, NY 11772 Google Directions
QUOTE FROM Mayor Paul Pontieri, Jr: "As Mayor of the Village of Patchogue, I congratulate The Patchogue Arts Council on this their first Biennial exhibition. Over the last 10 years the Patchogue Theater for the Performing Arts has with the support of the Village become a premier destination on the South Shore and has contributed to the renaissance that is currently taking place. I am pleased that in the same way, we now lend our full support to The Patchogue Arts Council and their efforts to bring fine visual art to the greater south shore community."
About the Patchogue Arts Council
Founded in February 2008 the Patchogue Arts Council, Inc. was formed to serve the community by encouraging, supporting and promoting all disciplines of visual, literary and performing arts while enhancing the public's appreciation of them. The Patchogue Arts Council, Inc. is a non-profit 501c 3 corporation whose focus is to serve the greater south shore of Brookhaven. www.PatchogueArts.org
THANK YOU SPONSORS
Briarcliffe College, Patchogue Arts Council, St. Josephs College, TD Bank, Patchogue Business Improvement District, Blue Point Brewing Company, BrickHouse Brewery & Restaurant, Dragon Phoenix Chinese Diner, The Harbor Crab Company, J&R Steakhouse, Mangia Mangia Italian Restaurant & Bar, Nancy's Crab Shack, Off Key Tikki, On the Waterfront, Pera Bell Food Bar, Reese's1900 Pub, Two-Morrow's Pub, Knapp/Swezey Foundation, Clare Rose Inc., kelly Development, Astoria Federal Saving, Blum's, Tritec Real Estate, Inc. Aurthur & Concetta Fuccillo & Family, Off Key Tikki, Tradition Tilte Agency Inc. Mosiaica, Inc. Drystal Writing Boards, Patchogue First, Blue Point Brewing Co. Joseph P. Graskemper DDS, Art Space, Tom and Karen Ferb, Custom Weld, Kathy Seff Designs, Arch Sprie Architecture, P.C. Long Island Pulse.
THANK YOU VOLUNTEERS
John Cino, Chairman; Beth Giacummo; Dan Lachacz; Jessica McAvoy; Daryl McAvoy; Lori Devlin; John Devlin; Karen Ferb; Tom Ferb; Nancy Duncan; Joel Peck; Debra Rodman-Peck, Ann Jacobson, Dawn Lee; Kathy Seff; Tom Krieger; Jo Miller; Paula Murphy; Karl Guyer; Cassandra Barcia; Viviana Spatola, Doug Mawra, Kerry Datz, Ryan Gilligan & crew, Harry Smith, Bill McNamara, Brian Unger, Renee Wegodsky, PJ Moon, Jim Byrne, Matt Palace & Mike-Palace Electric, Kelleen Guyer, Dave Kennedy, Tom Krieger Ester, Coby, Bernadette Smith, Dave Kennedy, Lauren Monte, Kelley Baker, Ovidio Girlon, Delis Montanez, Jacueline Gabrial, Sophia Vargas, Jody Banaczak, Denis Locke, Chip Hunter, Betsy Smith, John Stolz, Riva Rosenfield, June Redgato, Richard, Waldman, Terrence Daly, Jo Miller, Anne Marie Monte, Christina Langert, Joseph Dean, Robert Mielenhausen, Denise Locke, Cassandra Baracia, Brian Bartley, Beverly Geiger, Jamie Moog, Terrence Daly, Charlie Baker, James Young, Carol Tvelia, Fay Biegun, Ann Bluestien, Linda Carlsen, Evan Hammer, Jody Banaszak, Danielle Stingo, Marilyn Beard, Bill Shillalies, Maria Ritter, Kathryn Engelhardt, Catherine DiPaola, Tom Ferb, Kathryn Curran, Marian Russo, Carynn Smith, Margaret Atkinson, Leslie McHugh.
See photos at https://patchoguearts.org/2009/10/