PEST IN THE GARDEN @ the PAC Gallery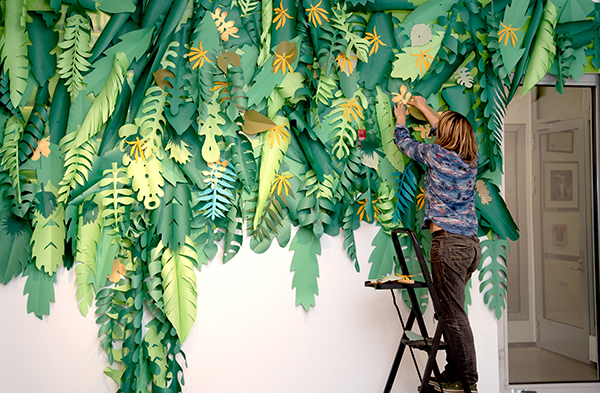 A special pop up installation @ the PAC Gallery In coordination with the Patchogue Arts Council Artful Antics 2019 Festival Season Kickoff
PEST IN THE GARDEN
by JENNIE THWING
APRIL 27 – 29, 2019
RECEPTION: APRIL 27 FROM 4:00 – 5:30 PM
Pest in the Garden is an installation featuring a cut-paper animation and wall mural. In the animation, a garden grows as insect-humans emerge from flowers. The installation hints at man's love for nature and resulting parasitic tendencies. It is also a metaphor for the relationship between parents and their children.
"My goal as an artist is to process and understand my experiences through the creation of art. After the birth of my son. I was forced to change my work process. I started creating daily 3-10 second animations. This led me to start a new series of works (including Pest in the Garden) that serve as a love letter to my 3-year-old son."
—Jennie Thwing
About the Artist
Jennie Thwing is a New York-based artist and animator and an Assistant Professor at Farmingdale State College SUNY. She received her BFA from Tyler School of Art and her MFA from the University of Maryland Baltimore County. She has exhibited her artwork nationally and internationally, in solo and group shows in countries such as Norway, Czechoslovakia, Germany, and Great Britain. She has attended artist residencies in the USA, Canada, Norway, and New Zealand and received numerous awards, including the Meyer Family Award for Contemporary Art, the Center for Emerging Visual Artists Fellowship, the SPARC Artist in Residence Grant and several Queens Arts Fund Grants.
About Artful Antics 2019 Festival Season (AAFS)
For many of us, the arts fill a valuable role of release from daily stress. This year's Artful Antics Festival Season 2019 (AAFS) from April through October will create an atmosphere that celebrates whimsy, humor, joy, and play from April – October.
AAFS will feature gallery exhibits, public art, and sculptural installations in the garden, film screenings, nights of live music and performance, and a new mural sponsored by PAC and the Patchogue-Medford Library on the library's rear wall.
The Arts on Terry (AOT) street art fair on June 23rd from noon to 6:00 PM is a full day of art exhibits, organizations, galleries, and artists from across L.I., demonstrations, family-friendly activities, live music, and performances.
Installation of Pest in the Garden.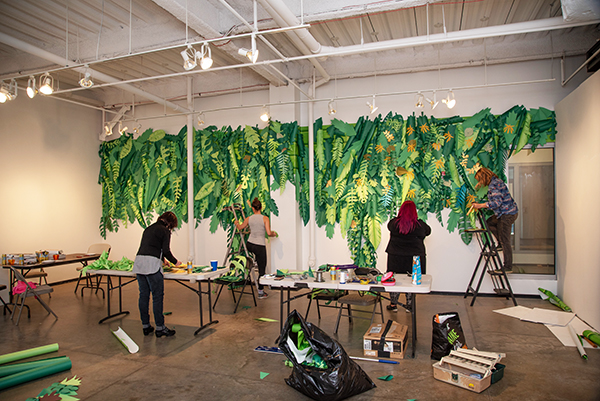 Panoramic of Pest in the Garden.