PAC kicks off the Festival Season with
Night of Dance on May 24 from 7:30 – 9:30PM
This year's theme E Pluribus Unum Festival Season 2018, (EPU) will celebrate the concept of unity from diversity in varied media and disciplines including visual arts, dance, music, film, and video in multiple venues in downtown Patchogue from May through October.
Night of Dance – A free event for all ages
Flamenco | Contemporary Dance | Special Exhibition
May 24 from 7:30 PM – 9:30 PM
Featuring a special performance by Sol y Sombra
9:30 – 10:00 PM Free dance lesson in the theatre lobby with Sol y Sombra
The Lobby Art Gallery will feature a special exhibition of photography
Dancing the World | by Jasna Boudard
More details will be released soon.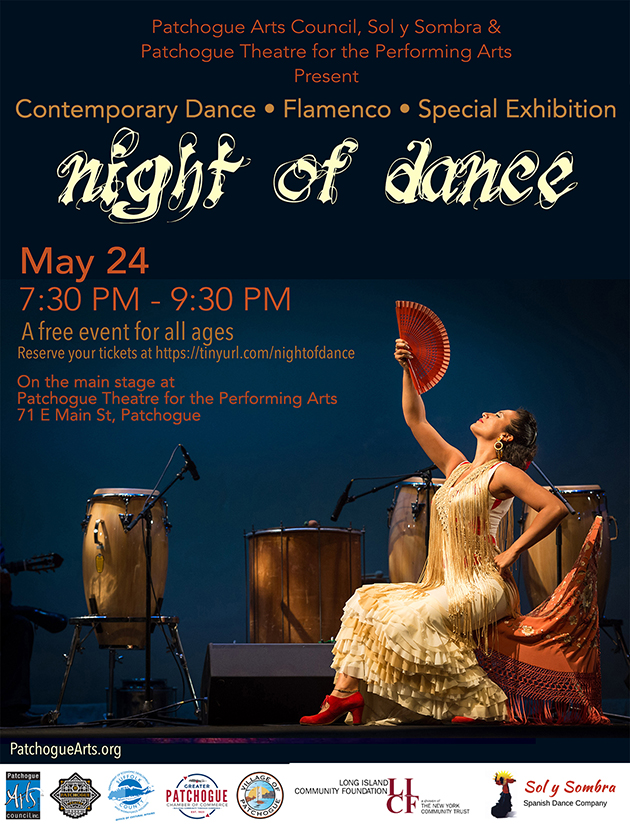 Since 2008 PAC has been presenting quality arts programming to the Patchogue community and has been acclaimed for its contributions to the revitalization and vibrancy of the village. The village has undergone a cultural renaissance and 2018 is yet another momentous year in our history as an arts organization and an influential moment in time for the Arts on Long Island as a whole. As we celebrate PACs 10th Anniversary, we are also excited to celebrate our location in the heart of Long Island's first officially zoned Arts and Cultural District! We are proud to serve as the catalyst for innovative reform with our local government.
The impact of the arts on Patchogue's revitalization is a prime example of what happens when the arts are supported. As noted by the Americans for the Arts in their 2017 published report of the top ten reasons to support the arts; they state that the arts "Improve individual well-being, unify communities, strengthen the economy, are good for local businesses, drive tourism, and spark creativity and innovation"
PAC strives to hew to its mission by serving the community with free and low cost imPACtful cultural events, making substantial opportunities accessible for all to experience art.
Please visit
PatchogueArts.org
to see a full schedule of events, exhibits and fundraising initiatives.