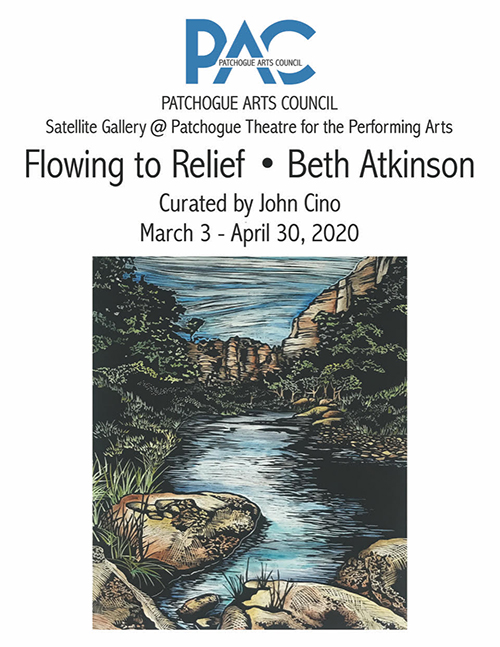 Satellite Gallery at Patchogue Theatre for the Performing Arts
PATCHOGUE ARTS COUNCIL
Flowing to Relief • Beth Atkinson
Curated by John Cino
March 3 – April 30, 2020
Artist Reception: March 20, at 6:00 PM
Northport artist Beth Atkinson grew up in a family of artists which offered her the opportunity to create in many media. She continues to do so although she favors the printmaking processes. She is especially drawn to woodblock printing as the "smell of the wood and the way the knives cut through the material" complement and complete her imagery. She has traveled extensively through the US park system from which she draws her inspiration and eventual subject material. After 'pulling' a print from the woodblock, her pieces often become one of a kind images through an additional process of hand coloring.
With degrees from SUNY Purchase and Queens College, Beth spent 32 years sharing and teaching her passion of art and nature with Long Island high school students receiving numerous awards including New York State Art Educator of the Year (2009), and Long Island Educator of the Year (2003). She has exhibited throughout NY and as far away as California and Washington state. A holder of multiple awards for her prints, her work is in the permanent collection in the Speedball Corporate offices in North Carolina.