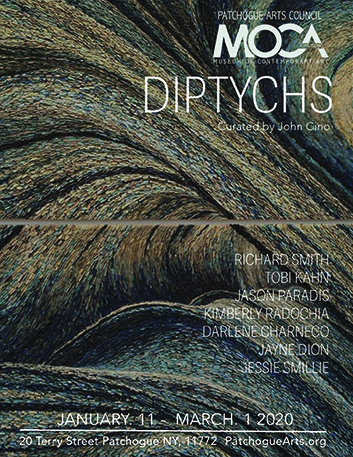 PATCHOGUE ARTS COUNCIL • MOCA L.I.
Diptychs
Curated by John Cino
January 11 – March 1, 2020
Artist Reception: January 11, 5:00 – 7:00PM
Artists included:
Richard Smith, Tobi Kahn, Jason Paradis, Kimberly Radochia, Darlene Charneco, Jayne Dion, and Jessie Smillie.

A diptych is a work of art created on two panels or consisting of two distinct elements that are in some way related.  The earliest recorded use of diptychs was carved ivory reliefs from the Roman Empire.  They were created as commemorative pieces, were portable and hinged, allowing for their closure as protection of delicate surfaces. Many were reused in later Antiquity as covers for manuscripts. 

At later times during the Byzantine, Medieval and Renaissance, diptychs and triptychs (three panels) were used as portable altarpieces.  The association with religious themes persisted into the 20th century.  German Expressionists during the Inter-War period sought to define a new spirituality.  One way to do so was to use the forms of previous religious works, and artists such as Max Beckman worked in diptych and triptych formats.

The Post War era saw many experiments in form. In the mid-1950's Jasper John let the subject dictate his paintings' form, most famously in his American flag series.  Johns also created a sculptural diptych in Painted Bronze, two beer cans that were cast in bronze and hand-painted with the original label.  John's works often blur the line between the subject and the representation of the subject. 

Shortly after John's flag paintings, Frank Stella began making paintings in which the internal composition was derived from the actual shape of the canvas. It was not long before Stella, Elsworth Kelly and Richard Smith amongst others in the early 1960s turned works of a single shaped canvas into a composition of multiple canvases. It was also during the 1960s that Pop artists James Dine, Andy Warhol, and others turned to diptych formats for iconographic reasons.

In the 1960s when the art world seemed to be split between the Minimalist interests in form and Pop Arts' elevation of the common subject,  Richard Smith (1931- 2016) created a delicate balance between overlaying the formalist shaped canvases with recognizable subjects from contemporary interests. In his later work Self Portrait Smoking, 1998, Smith offers two interlocking canvases, one containing a silhouette of the artist, the other seems to remain abstract.  The work carries on a tradition going back to Courbet and including Picasso in which the artist is both creator of and an element in a creative act. In a work from his last years Empty Lot, 2010, Smith creates tension between abstraction and representation. In a diptych which appears to be made of similarly abstract shapes, a hidden subject lurks, that of automobiles seen from above in a snowy parking lot. 
Tobi Kahn is another artist who pushes his imagery to the brink of non-objectivity.  For the past thirty years his landscapes, often painted from an unusual perspective, including aerial views, are distilled down to their most essential forms.  Kahn creates an object-like quality by continuing the imagery onto the sides, and through a process of layering of paint which creates a lush, almost nacreous surface.  In his new series, he has turned his interest in radical abstraction onto the human form.  AKHYLandADYMH, 2019, the first of the series to be viewed from a relationship beyond a single canvas, are further abstracted by the oblique positioning of the pair.  
The surface is also a primary concern of Kimberly Radochia. The viewer is immediately drawn to a plumage-like surface created by the application of myriad strips of printed paper. Her purely formal compositions are evocative of the natural process of murmuration, originally attributed to the flocking of starlings, but also found in other land and sea creatures whose individuals seem to move in unison with an awareness of the group.  In Slots 2, Radochia organizes her diptych in an untraditional top and bottom composition.

The relationship of the individual to the community also informs the work of Darlene Charneco who sees the community as a macro-organism. In her tactile maps and topographical weaves, nails are hammered into a wood matrix. Similar to Kongo Power Figures, the ritualistic hammering of each nail represents a positive wish, dream, or hope for the future.  In House Readings (Ars Memoria), 2020, she offers a conceptual map of her first two homes as receptacles of memories, growth, and connectivity.

Jason Paradis' early childhood memories have inspired the entire body of his work.  Specifically, his recollections of the night sky while camping in the north of his native Ontario. Each of his paintings and installations begins with a star chart unique to a time and place. In his installations, the stars are then brought into our space as their light is evoked by emanations of colored yarns that move from wall to floor. For Asterion's Mirror, 2019, Paradis finds a space between painting and installation. The original start chart is mirrored and the connecting light rays create a shimmering object in three-dimensional space.

In The Garden of Good and Evil, 2019, Jayne Dion reminds us of the most ancient diptych, hinged relief sculptures.  Her work also offers a left/right symmetry of light and darkness.  As in so many of her drawings and sculptures, what seems straight forward has a twist. It seems like Good and Evil are merely degrees of the same and to further the conundrum she places the Good on the left or sinistral side. Like most of her work, The Garden of Good and Evil is both whimsical and a bit dark.
A passage through darkness is offered in Jessie Smillie's rites of passage diptych, She Comes From It, And Returns To It, 2018. In the temporal narrative, we first see absence and then presence. Time has passed, a leaving has occurred, and a journey begun. Upon return we wonder, "Is this the same place."  The viewer and indeed the artist herself can wonder if upon returning she is the same person.
Whether it is formal or conceptual, temporal or spatial, a diptych creates an additional relationship between artist and viewer.
Patchogue Arts Council • MOCA L.I.
20 Terry St, Suite 116, Patchogue, NY 11772