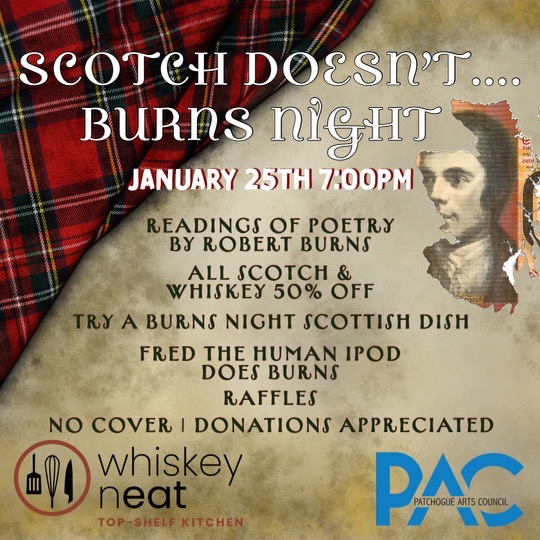 Scotch Doesn't…
Burns Night
JANUARY 25 @ 7:00 PM
No cover | Donations welcome
PAC -MoCA and Whiskey N' Eat present an evening of great food, high spirits (liquid and emotional) seasoned with dashes of poetry and song!
Join us @ 7:00 PM | We'll warm it up with some Burn's favorites while you order some tasty bites (including a Burns Night Scottish dish) and your favorite scotch. ALL Scotch & Whiskey is 50% off ALL evening. So have some of your favorite or try something new and let's cheers to Burns.
@8:00 PM | Welcome to Robby Burns Remix Night celebrating the 264th birthday of Scotland's national poet. Featuring the Fred the Human Ipod!
Since 1801, when close friends of Robert Burns held the first supper-party honoring his birthday, folks have gathered on January 25 in celebration.
You already know his "greatest hit." You hear it, you sing it every New Year's Eve with old acquaintances and cups of kindness in your hands: Auld Lang Syne.
So, pour yourself a dram of scotch, grab a cock-a-leekie soup bowl, and buy a raffle ticket for a whisky treat. Celebrate with us at Whiskey N' Eat.
Enjoy and support the arts by buying some raffles to win a Burns inspired basket of fun.