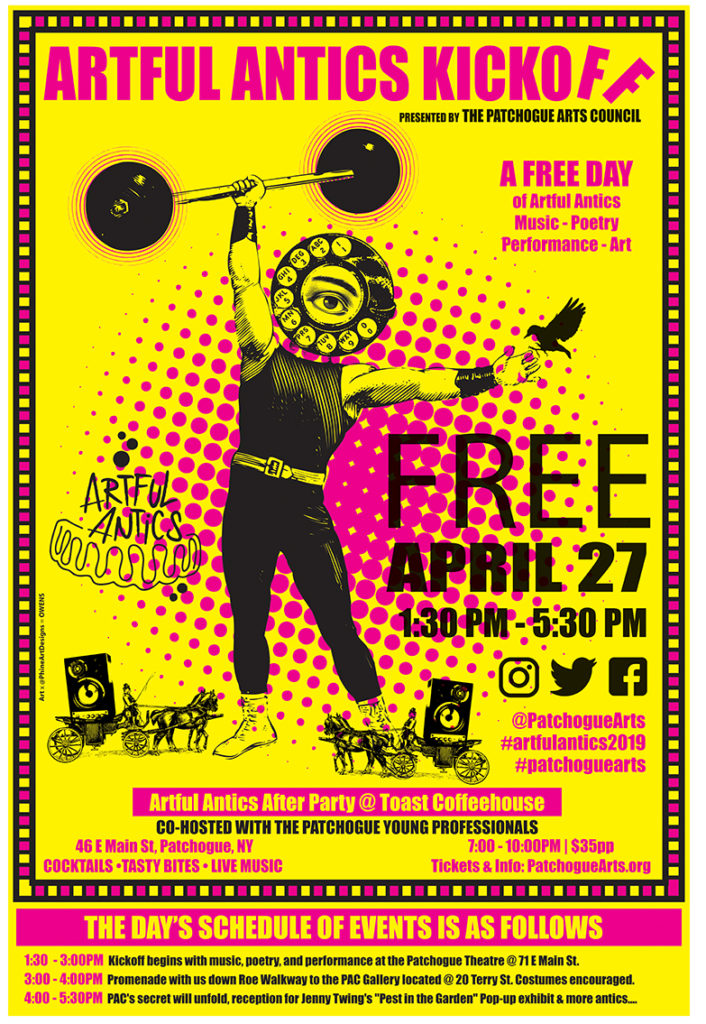 APRIL 27 • ARTFUL ANTICS KICK OFF EVENT • FREE
Art | Music | Poetry | Costumed New Orleans Style Promenade
1:30 – 3:00 PM | Join us at the Patchogue Theatre for music, poetry, and performance. Special performances by Alexa Dexa, Robert Stenzel as Voltar, C.A. Nicola as Capricieux, Michael Krasowitz, & Wendi Weng.
3:00 – 4:00 PM | Line up  and  promenade with us from the theatre, along Main Street, down Roe Walkway and the Pathway to the Arts. After a ribbon cutting to celebrate the newly installed public art we will end the day at the Patchogue Arts Council Gallery on 20 Terry Street.Costumes encouraged.
4:00 – 5:30 PM | The reveal of PAC's big "secret" and artist reception for a special pop-up exhibition Pest in the Garden by Jenny Thwing.

7:00 – 10:00 PM | Artful Antics After Party | Tickets: $35pp |Available online https://patchoguearts.org/artful-antics-after-party/