THE PATCHOGUE ARTS COUNCIL
Presents
Art with Patchogue Head Start Student Exhibition
PATCHOGUE, NY – March 21, 2018
The Patchogue Arts Council, Inc. (PAC), a non-profit arts organization committed to the encouragement, support, and promotion is excited to announce: Art with Patchogue Head Start Student Exhibition
What: Art with Patchogue Head Start Student Exhibition
When: April 14, 2018 from 3:00 PM – 5:00 PM
Where: Patchogue – Medford Library 54-60 East Main Street, Patchogue
Cost: Free and open to the public
The Patchogue Arts Council, Head Start Patchogue, Village of Patchogue Community Development Agency, and The Patchogue Medford Library are excited to announce the Art with Head Start Student Exhibition.
In partnership with Head Start Patchogue and with special funding from the Community Development Agency the Patchogue Arts Council created an 8 week visiting artist program. Each week a teaching artist created Fine Art centric lessons allowing students ages 4 &5 to experience new materials, techniques and creative thinking activities.
Teaching artists included; Linda Weingarten, Anu Annam, Heather Van Velsor – Thorgersen of ThinkBIG! Theater Arts, Inc. and the art honor society students from Sayville high school along side their teacher and mentor Jennifer Berotti.
The Art with Patchogue Head Start Student Exhibition is a culminating event hosted in collaboration with the Patchogue-Medford Library. An exhibition of student works and reception will be hosted on April 14 from 3:00PM – 5:00PM in meeting room A at the Patchogue – Medford Library. This event if free and open to the public. We hope that all children who participated and their families will be able join us for this celebration.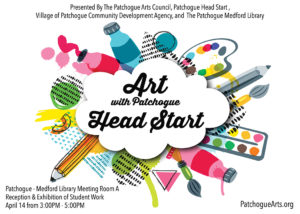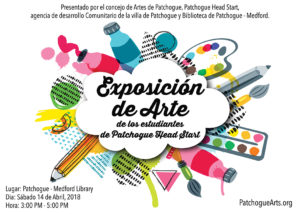 ABOUT THE PATCHOGUE ARTS COUNCIL – The Patchogue Arts Council, Inc., was formed to encourage, support, and promote the arts while aiding in the revitalization and sustainability of the community. The Patchogue Arts Council, Inc. is a 501(c)(3) non-profit organization whose focus is to serve the greater south shore of the Town of Brookhaven.