[2009.04.15]
Robert Mielenhausen at the Patchogue Theater Gallery March 21 – May 15.
Patchogue Arts Council is proud to present the paintings of Robert Mielenhausen which will be on display in the Gallery at the Patchogue Theater for the Performing Arts.
Mielenhausen turns his gaze on an intimate slice of life in lower Manhattan depicting neighborhood streets, doorways and bicycles. The paintings are a unique combination of altered photographs and meticulously rendered textures which give new life to seemingly mundane images, turning the ordinary into the extraordinary.
"His works are incredibly truthful, honest and pure, embodying the experiences and emotions felt when inhabiting this unique metropolis." Ruthie Tucker, Executive Director, Amsterdam Whitney International Fine Arts, Inc, NY.
Mielenhausen's work appears in numerous collections throughout the US. He has been widely exhibited in the tristate area including recent exhibitions at OK Harris, NY. He is represented by the Viridian Gallery.
A reception for the artist was held on Wednesday, April 15 at 6:30 pm. Continuing a tradition of combining local arts and dining the reception will be catered by Patchogue's own Bobbique.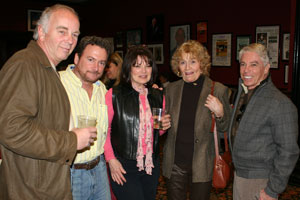 Patchogue Theater for the Performing Arts is located at 71 E. Main St, Patchogue. The Gallery is open to the public during all performances. For information of viewing call the Theater at 631 -207-1313 or visit info@patchoguetheatre.com . For information on the artists call John Cino at 631-730-5811