A 4 week event showcasing the work of Long Island artists from various disciplines and media that also introduces thousands of visitors to Patchogue's vibrant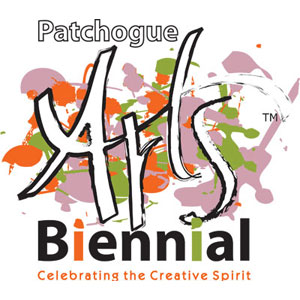 art community.
Patchogue Arts Biennial 2011
Celebrating the Creative Spirit Arts Event
October 22nd- November 13th, 2011
Hours of Operations: Tuesday- Friday Noon – 8pm
Saturday & Sunday Noon – 5pm
Artist Reception on October 29th, 2-5 pm
2011
Hosted by Briarcliffe College
225 W. Main St., Patchogue, www.bcl.edu
FREE ADMISSION
Thank You Briarcliffe College! At the 11th hour, when the committee thought for sure it would be forced to cancel the event, Briarcliffe College saved the event by once again offering the 12,000 sq ft exhibition space located on the south side of their building. The 2011 Patchogue Arts Biennial Committee is elated to be returning the event to its pilot location at Briarcliff College.
This year's event will take place from October 22nd- November 13th, and will feature a reception on October 29th. The Patchogue Arts Biennial is an invitational exhibit exposing the public to a variety of contemporary art forms, many of which are not usually seen in traditional venues. The artists are of diverse backgrounds and are drawn from all of Long Island; Brooklyn to the East End.
If you are interested in becoming a sponsor or supporter at any level, please click here to view the sponsorship opportunities form please click here to view or email jesmcavoy@yahoo.com
Artists: Jae Hi Ahn, Eliz Alahverdian, Hannah Smith Allen, Suzane Anker, Robert Cararioscia, Robert Carter, Margaret de Lima, Christopher L Delloiacono, Stephanie Dinkins, Robin DuPlessis, Roseanne Ebner, Robert Edwin, Rosamaria Eisler, Joseph Esser, Carson Fox, Janet Goleas, Brain Hogan, Jill Hotchkiss, Veronica Johnson, Tobi Kahn, Seung Lee, Rainy Lehrman, Jennifer Maloney, Patricia Mamatos, Alisha McCurdy, Harold Naideau, Susan Newmark, Ben Owens, Maureen Palmieri, Iacopo Pasquinelli, Mel Pekarsky, Vicki Ragan, Winn Rea, Nikki Romanello, Carla Shapiro, Maria Spector, Ryan Turley, Tonito Valderrama, Claire Watson and Annie Wildey
Long Islands Largest Art Exhibit of it's Kind – The Patchogue Arts Biennial
Powered by 100% Volunteers
WHO: Patchogue Arts Council [PAC] Board and Trustees, Patchogue Arts Biennial [PAB] Committee, PAC Members, PAB Volunteers, Patchogue Village Trustee PAC Liaison, Briarcliffe College, St. Joseph's College and many more local supporters of the arts
WHAT: The Patchogue Arts Biennial is Long Island's largest Arts Exhibit of its kind and will be held October 22 – November 13th 2011 in 12,000 sq. ft. exhibit hall. The goal of the event is to expand the communities view as to the trends, function and purposes of art in the 21st century. The Patchogue Arts Biennial will feature artists representing a broad cross-section of artistic creativity that will each be given space to exhibit a representative body of work. The artists come from the entire island, Brooklyn to the East End and range in age from 25 to 80.
The exhibition's opening event will be on Saturday, Oct. 29th, 2-5pm, campus of Briarcliffe College, and an artist reception. Briarcliffe College is located at 225 W. Main Street, Patchogue.
WHEN: October 22nd – November 13th 2011 – Artist Reception October 29th
WHERE: Briarcliffe College, 12,000 sq. ft. Exhibit Hall, 225 W. Main St., Patchogue, NY 11772 Google Directions
About the Patchogue Arts Council
Founded in February 2008 the Patchogue Arts Council, Inc. was formed to serve the community by encouraging, supporting and promoting all disciplines of visual, literary and performing arts while enhancing the public's appreciation of them. The Patchogue Arts Council, Inc. is a non-profit 501c 3 corporation whose focus is to serve the greater south shore of Brookhaven. www.PatchogueArts.org
THANK YOU SPONSORS
Briarcliff College, Patchogue Arts Council, Knapp Swezey Foundation, St. Joseph's College, Long Island Pulse, Two Morrows Pub, Beach House Restaurant, Public House 49, Bella Vino, The Oar, Blue Point Brewing Company, BrickHouse Brewery and Restaurant, Pera Bell Food Bar, Delforie Pizza & Food Co., Reese's 1900 Pub, The Harbor Crab Co., Roast, J&R's Steakhouse, Village Idiot Pub, The Patchogue Business Improvement District, The Riverwalk, Adelphi University, Patchogue-Medford Congress of teacher, TD Bank, and Suffolk County Office of Cultural Affairs.
THANK YOU VOLUNTEERS!!!
[soliloquy id="1797″]