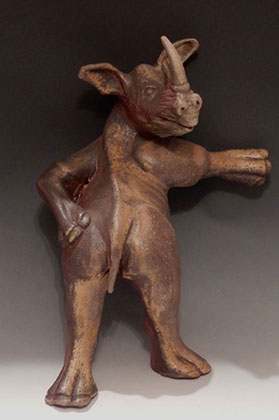 LOL – Laugh Out Loud
Lots of Laughs
May 5 – June 16, 2019

May 5 from 4:30 – 5:00 PM
Artist and Curator Talk
5:00 – 7:00 PM
Reception

Location:
MoCA LI (formerly PAC Gallery) 20 Terry St., Patchogue, NY, 11772
The Patchogue Arts Council (PAC) announces LOL, a group exhibition that presents artists whose works employ humor, on view at MoCA LI (Museum of Contemporary Art LI) from May 4 – June 16, 2019, with a talk and reception that is free, and open to the public on May 5 from 4:30-5:00 PM ( Artist and Curator Talk) 5:00 – 7:00 PM Reception. MoCA LI (formally the Patchogue Arts Gallery) is located at 20 Terry St., Patchogue, NY, 11772. The exhibition is curated by John Cino and features works by Hal Buckner, Jack Fink, Heather Layton, Jennie Thwing, Eileen Sackman and Annemarie Waugh.
LOL presents artists whose works employ humor. Since the days of Jonathan Swift's Gulliver through the Dada movement of the early 20th century to the present line-up of late-night talk show hosts humor has employed as a vehicle for use in examining the human condition. Whether eliciting a chuckle or a belly laugh humor offers a non-threatening way to expose the foibles of current events. Through anthropomorphism, satire and hybrid technologies the artist of LOL ask us to consider our places in the personal, natural or political worlds.
The on exhibit in LOL include Hal Buckner, Jack Fink, Heather Layton, Jennie Thwing, Eileen Sackman and Annemarie Waugh.
Eileen Sackman
Eileen Sackman is a ceramic artist who received her MFA from SUNY New Paltz and currently lives in New York's Hudson Valley. Sackman's passion for creating and working in the ceramic medium is met by her devotion to teaching through workshops, community art centers, and in the university and college settings. She uses her creativity as an opportunity to engage viewers in a conversation surrounding issues that alarm and disturb her. She states in regards to her current series of works studying animal poaching, " It is my hope, through humor and the fantastical, to open the minds and hearts of the viewers."
Heather Layton
Heather Layton creates devices, mechanisms, machines, and tools that can assist in the restoration of shared humanity. She states, " Many Americans cannot remember a time when the country has been more divided… My concern is that this state of perpetual aggression is placing an unsustainable level of stress on the mental and physical health of citizens across the nation, triggering a public health issue in and of itself. I worry that the further we succumb to the temptation of villainizing others for the sake of defending ourselves, the further we put ourselves at risk for becoming the villains we describe." She intends her devices to act as reminders that people are complex and individuals' similarities outnumber the differences.

Jennie Thwing
Jennie Thwing is a Queens-based artist, animator, and educator that currently teaches time-based media at SUNY Farmingdale State College. Thwing creates imaginary narratives that reference the history, ideology, social context, family mythologies and dreams of herself and others with video, installation, and animation. Her work revolves around the natural world and involves the anthropomorphism of nature, refuse and human environments. Thwing states, "The installation [Pests in the Garden] hints at man's love for nature and resulting parasitic tendencies. It is also a metaphor for the relationship between parents and their children."

Annemarie Waugh
Annemarie Waugh was born in the United Kingdom and received a BA from Central St Martins. Currently based in New York, she primarily works in paint and installation. Waugh often incorporates her stories and poems, plants, nail polish, soil, grass, and her voice into her works. She using uses language and humor as entry points and a tone of whimsy in her works in order to explore environmental concerns. Waugh states her installation, The Flower Power Association, is " my fable about the gossiping plants and animals in my garden. Brought to life with hanging felt pockets, planted with the story's characters… When the viewer presses play, I read the story."
John (Jack) Fink
John Fink is an award-winning artist, professor at Nassau County Community College, and frequently provides pottery and sculpture demonstrations and workshops to aspiring artists and collectors. Fink creates mostly functional ceramic items, as well as sculptures that are hand-fabricated ceramic combined with mixed materials. His artist statements notes, "These sculptural works of art reflect the duality of his nature: a sense of humor and a serious side, but always plumbing the depths of what it means to be human. His whimsical and mythological sculpture includes miniature people and what are called 'far-fetch dragons.' "
Hal Buckner
Hal Buckner states the following about his sculpture Peace 2015 from Lady Liberty, "While I was cutting this sculpture out, I was reflecting our current level of peace in the world, and also the level in my own life. Feeling fortunate for my personal position, but wishing more of course for the world at large. This piece is a bit of a departure from my usual direction, as you will see in my upcoming shows. My work often has sexual overtones, but it's not always intentional. The subject that I work with is the female figure, and by nature, this leaves much of the interpretation decidedly in the mind of the viewer."

A Few Exhibit Photos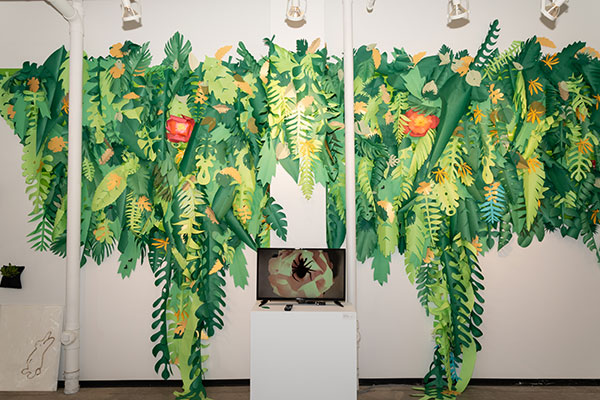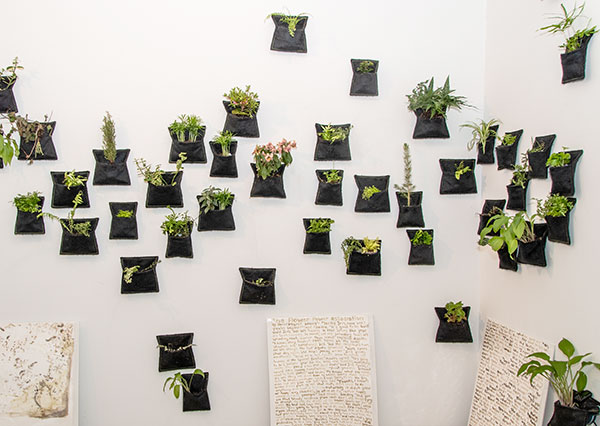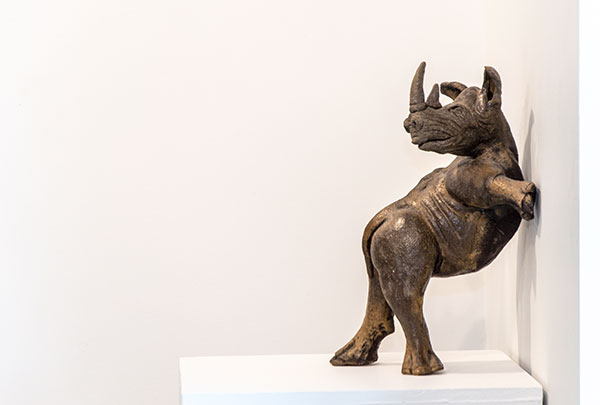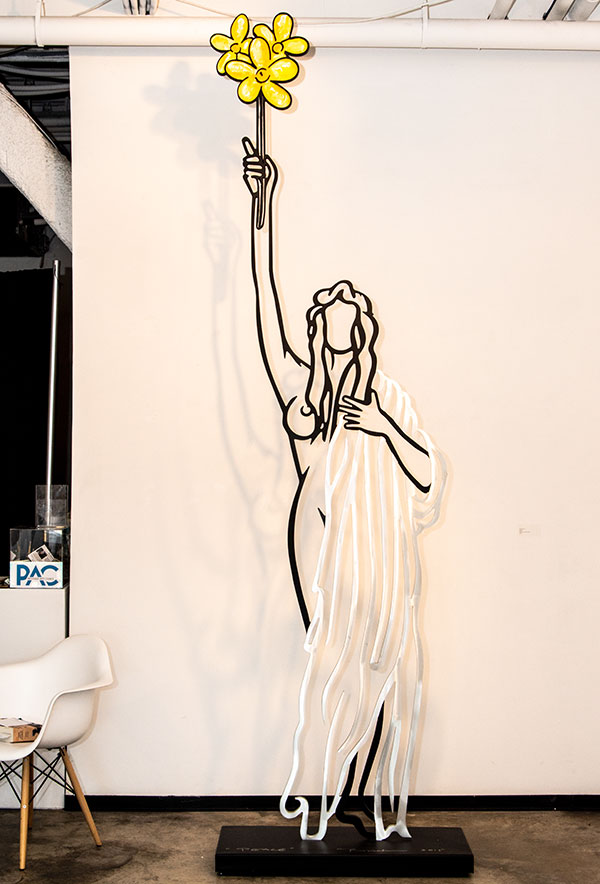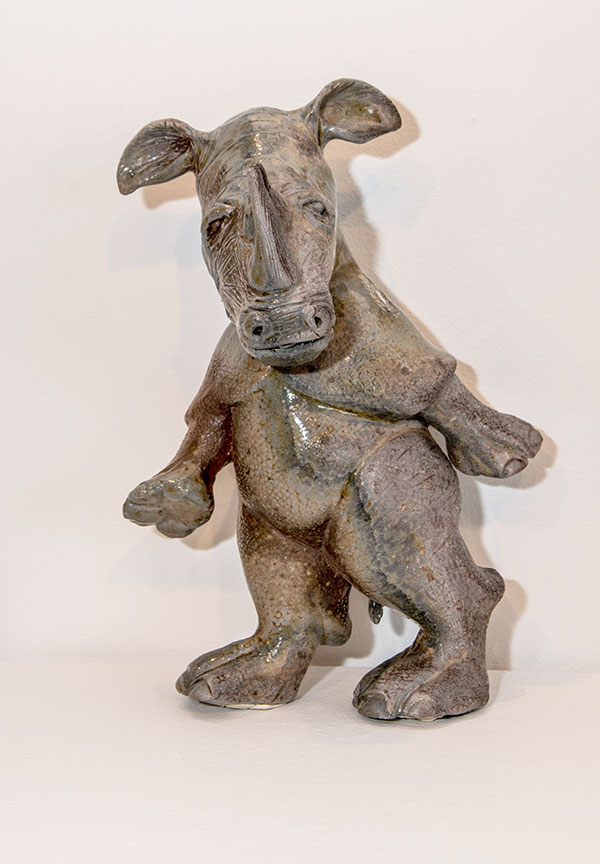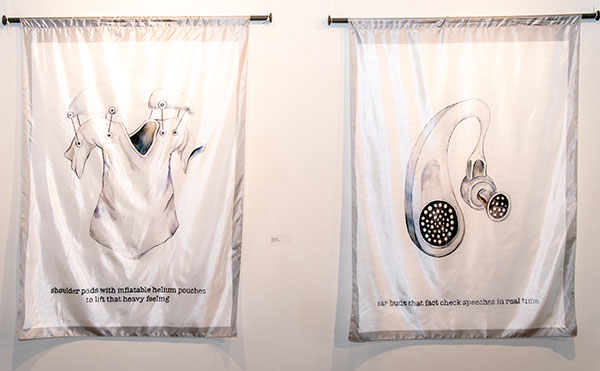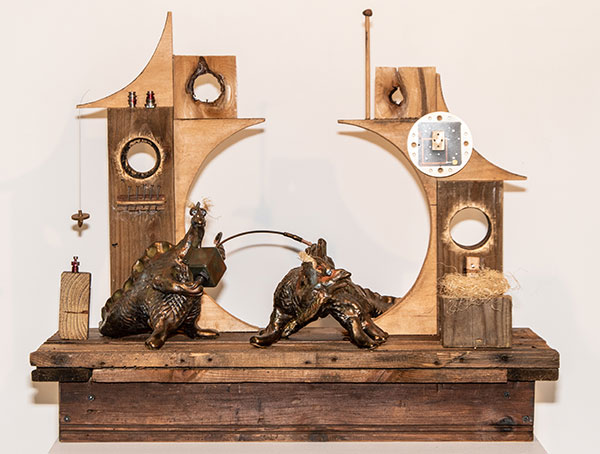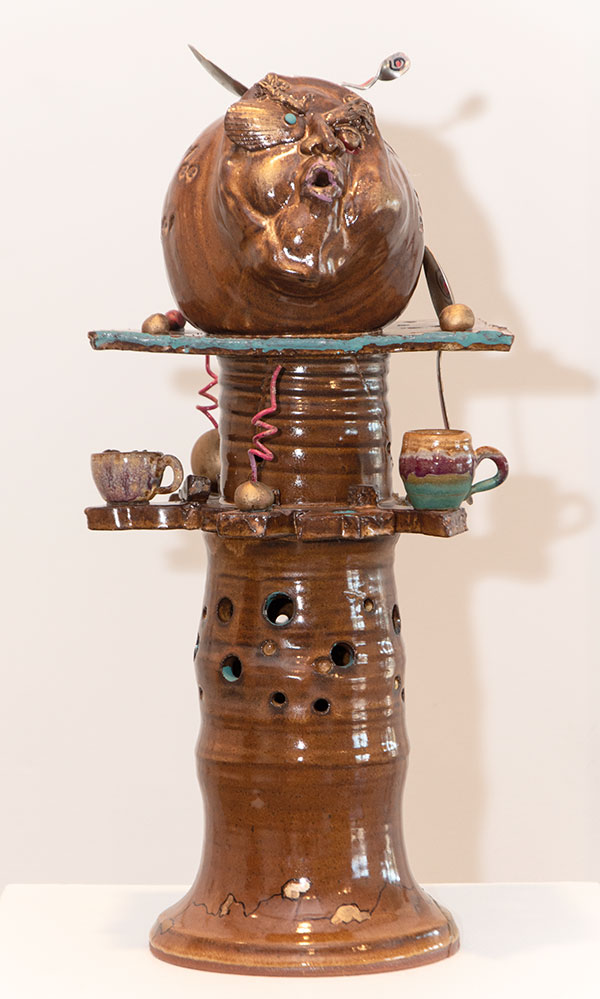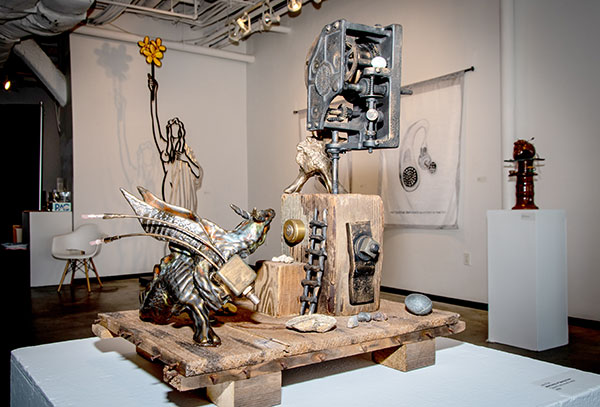 Artist Talk & Reception Photos to come Shortly.