IMMEDIATE RELEASE
MoCA L.I.GHTS Announces
SMASH
Glass ceilings shatter with Marilyn Minter's SMASH, coming to Patchogue November 5 – 8, 2020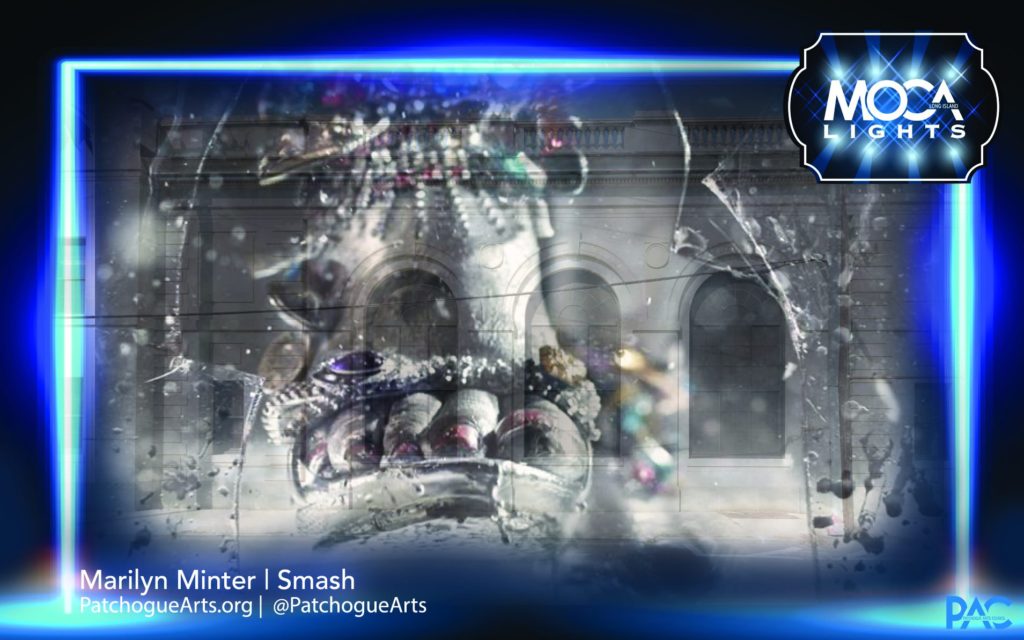 Patchogue Arts Council • Museum of Contemporary Art Long Island announce the inclusion of SMASH, by artist Marilyn Minter! 
Over the next weeks the Patchogue Arts Council will highlight each of the MoCA L.I.ghts Artchitecture installations that will be on view during the November 5 -8 programming! 
In just a few weeks, the work of internationally acclaimed artist Marilyn Minter will flood the facade of the historical Industrial Coverage Corp. located at 62 South Ocean Ave. and Church Street, Patchogue. Minter's works have been exhibited extensively worldwide, including solo museum exhibitions throughout the U.S., Spain, Germany, and in 2021 Minter's new Bather series will be the subject of a solo exhibition at MOCO, Montpellier Contemporain, France. 
Utilizing projection mapping technology Marilyn Minter's, SMASH, 2014 will be projected as a site-specific installation. This work will be mapped for the first time in its' presentation for MoCA L.I.ghts 2020. This work is courtesy of the artist and Salon 94, NY. © Marilyn Minter. 
SMASH features a model/dancer's feet, which have been tightly crammed into bejeweled heels. The model slowly and ominously destroys a glass pane separating the subject from the viewer as silver rain falls from above. Minter is known for critiquing the seeming perfection of the fashion industry. She gets almost uncomfortably close to her subjects, showing the point at which things start to break down. 
SMASH details:
HD digital video | 7:55 minutes
Edition of 5, 2 APs
Produced by Marilyn Minter, Brooklyn Museum and Salon 94, New York
Director: Marilyn Minter | Director of Photography: Darren Lew
Editor: Todd Stewart | Post Production: Picture Farm
Colorist: James Tillett | Dancer: Akira Armstrong
Music by: Ludwig Göransson | Set Design: Matt Stone
Production Assistants: Johan Olander, Genevieve Lowe, Philip Ashley
Stylist: Marisa Crawford | Tattoos: Scott Campbell | Shot at ROOT Studios 
Courtesy of the artist and Salon 94, NY. © Marilyn Minter  
ABOUT THE ARTIST
Marilyn Minter (b. 1948, Shreveport, Louisiana) received her BFA from the University of Florida, Gainesville, FL, in 1970 and her MFA in painting from Syracuse University, NY in 1972. She has been the subject of numerous solo exhibitions worldwide including the San Francisco Museum of Modern Art, CA in 2005; the Center for Contemporary Art, Cincinnati, OH in 2009, LaConservera, Centro de Arte Contemporáneo, Ceutí/Murcia, Spain in 2009; the Museum of Contemporary Art, Cleveland, OH in 2010; the Deichtorhallen in Hamburg, Germany in 2011 and the SCAD Museum of Art in Savannah, GA in 2020. From 2015-17, Minter'sretrospective Pretty/Dirty was on view at the Contemporary Arts Museum, Houston, TX, and traveled to the Museum of Contemporary Art Denver, CO, the Orange Country Museum of Art, Santa Ana, CA, and the Brooklyn Museum, NY (catalog).In Spring 2021, Minter's new Bather series will be the subject of a solo exhibition at MOCOMontpellier Contemporain, France ( catalog ). Museum collections which hold works by the artist include Baltimore Museum of Art; BlantonMuseum of Fine Arts, Austin; Denver Art Museum; Everson Museum, Syracuse; Harn Museum of Art, Gainesville; Kunsthaus Museum, Zurich; Milwaukee Art Museum; MIT List Center, Boston; Moderna Museet, Stockholm; Museum of Contemporary Art, Los Angeles; Museum of Contemporary Art, San Diego; Museum of Fine Arts, Boston; Museum of Modern Art, NewYork; Orange County Museum of Art, Santa Ana; Perez Museum of Art, Miami; San FranciscoMuseum of Modern Art, San Francisco; The Guggenheim Museum, New York and the Whitney Museum of American Art, New York. Since 2006, the artist's work has been represented by Salon 94.  
ABOUT MoCA L.I.GHTS
MoCA L.I.ghts will transform the Village of Patchogue into an inviting open air museum and arts destination for the public to enjoy safely on foot, by car, and online for free. Facades of contemporary and historic architecture, the PTPA Marquee, and PAC's pop-up inflatable gallery screen will all be illuminated with innovative projected artworks, animation, and site-specific media works created by local, national, and international artists. Surrounding businesses in the downtown area will become a vibrant backdrop to this uniquely immersive arts experience, rejuvenating and lighting up spirits of all ages in ways Long Island has never seen.
A special thank you to our sponsors.

---
Please help us continue to provide free programming and artist resources like the above!
---