NIGHT VISIONS GALLERY
Outdoor pop-up gallery
FALL – WINTER 2020
INTERNATIONAL OPEN CALL
The Patchogue Arts Council • Museum of Contemporary Arts Long Island
is seeking artists working in all media.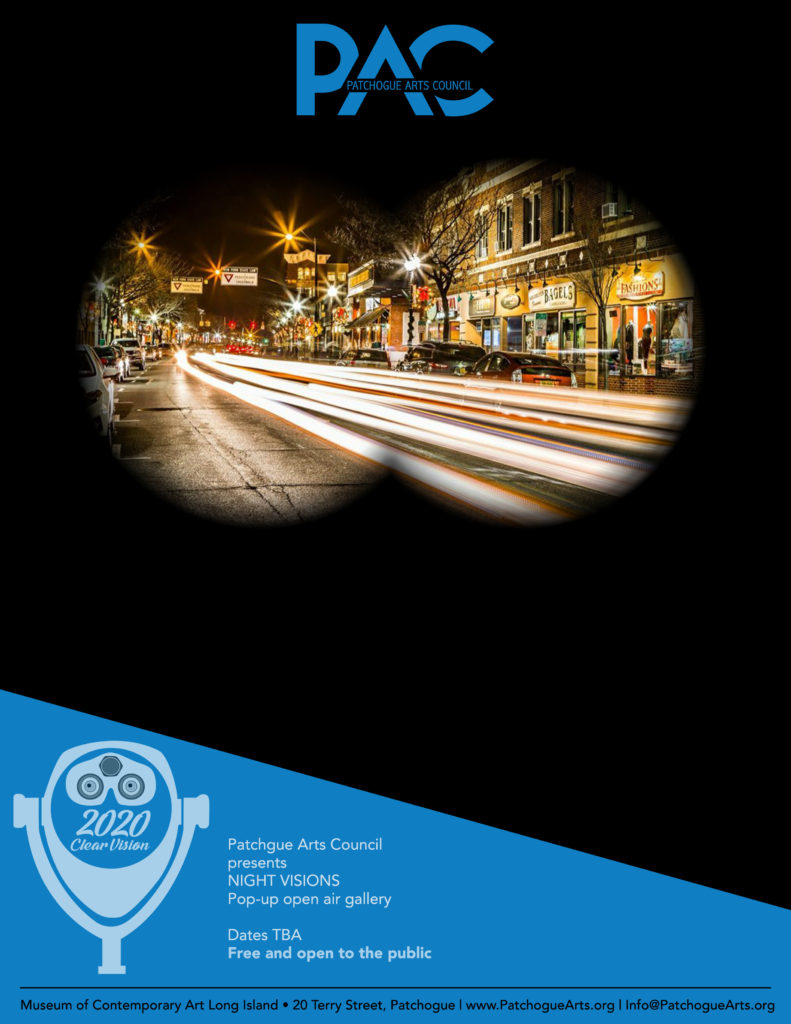 NIGHT VISIONS GALLERY | Outdoor pop-up gallery
FALL – WINTER 202
As the days get shorter and darker the Village of Patchogue will begin to
glow, transforming the downtown into an open air exhibit as the Patchogue
Arts Council presents MoCA L.I.ghts 2020. This program includes a series
of compelling, site-specific artist-designed light works that include
projection, video, animation, and gifs. Installations will take place on the
facades of various architecture, the Patchogue Theatre marquee, and on
a pop-up inflatable gallery screen. A live broadcast of MoCA L.I. events
will take place on social media!
NIGHT VISIONS | pop-up inflatable gallery screen will be placed in various
locations throughout the Village of Patchogue creating an immersive art
gallery experience for the community. Works by selected artists will be
projected onto an inflatable screen at selected downtown locations
including the Carnegie Library, Patchogue Village Community Garden, and
outside of MoCA L.I. in the Patchogue Arts District!
This exhibit will take place on various nights through
October – December 2020.
Exact dates TBA.
Artists working in any media are welcome to submit works for consideration.
Works chosen will be projected.
This program will be curated by the MoCA L.I.ghts curatorial committee.
Submissions Details
• Submissions due October 1st, 2020.
• Artists will be notified through email no later than October 5th, 2020.
• Subject line must include: NightVisions20_YourName
• Email your submissions to: [email protected]
Only submissions to this email address will be considered.
Email Submission Guidelines
• Artists can submit up to three works for consideration in the appropriate format. You can submit work in any medium, all works are projected for the final exhibit.
• Acceptable formats include; jpeg, pdf, gif, mov, mp3, and mp4.
• Please submit 3 images (max) representative of your work using the following specifications.
• All files should be labeled with your name and title of work.
Ex: Yourname_titleofwork.jpg
• All artists must include the following: CV/resume, bio, and artist
statement.
• Submissions that do not follow ALL of the above guidelines will not be
considered.
• Only digital submissions sent by end of day October 1st, 2020, will be considered.

Please email [email protected] with any questions.
NO SUBMISSION FEE
NIGHT VISIONS | Open air pop-up gallery is part of the
Patchogue Arts Council Clear Vision 20/20 festival season and
MoCA L.I.ghts 2020 program.
All programs are planned to be socially responsible; masks and social
distancing encouraged.
PATCHOGUEARTS.ORG | [email protected]
---
Please help us continue to provide free programming and artist resources like the above!