The Patchogue Arts Council
presents
"1967: Summer of Love"
This week's spotlight Artist:
Linda Louis
---
"Art has no rules … it is not like medicine, or science, or the law… in art rules exist to be broken. Art invites the ephemeral, the subjective, the idiosyncratic.  Art celebrates innovation, it delves the mind." [From Linda's artist statement]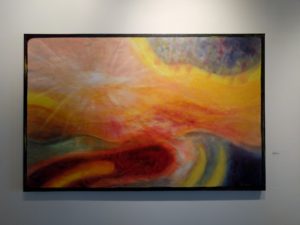 (The Mystical Trip, Oil on Canvas, 34 x52, 2016)
Pictured above is Linda's piece that was on display at the Patchogue Arts Gallery's "1967: Summer of Love" exhibit.  
Linda gave us some background info about her piece:
'The Magical Trip'(now The Mystical Trip) first emerged as part of a series of 12 small, roughly 5"x 7" wax and pigment paintings on paper. They did not have a names. I informally called them 'personal experiences'. Fascinated by this particular 'personal experience', and drawn to working on wood, it transitioned itself into a 36"x36" wax and pigment painting called 'A Remarkable Journey'. After a time, while still inspired by the subject, I turned again to this particular image, thus creating the 34"x52" oil on-canvas painting called 'The Magical Trip'. – Linda Louis