Paint the Great South Bay 2023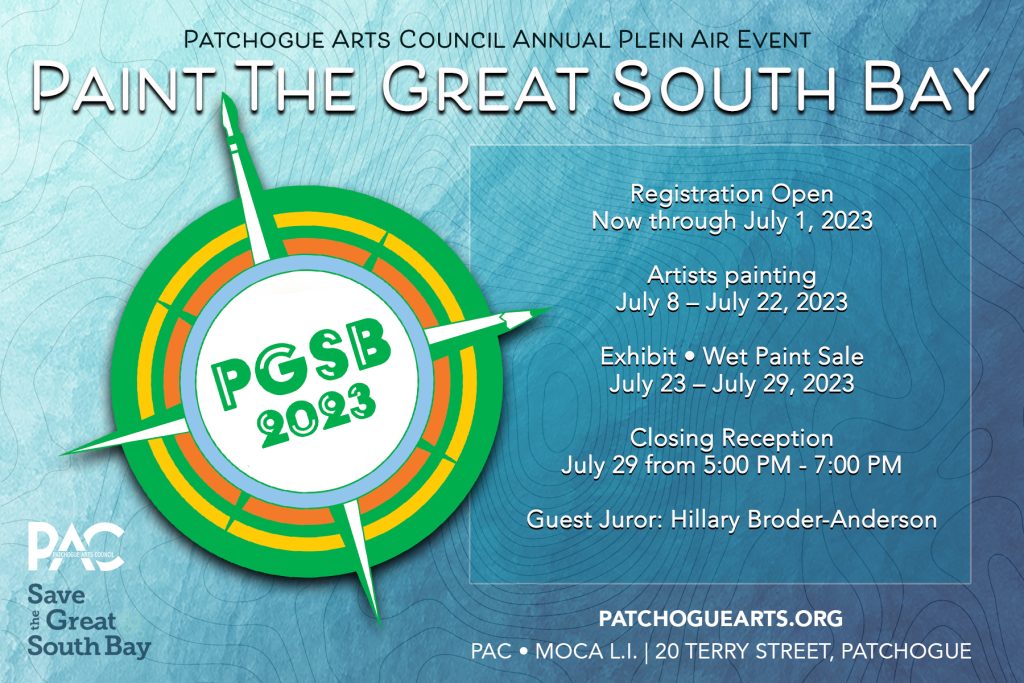 We are excited to welcome back our sponsor Blick Art Materials to another PGSB!
Annual Plein Air Event • Exhibit • Wet Paint Sale
Artists paint | July 8 – July 22, 2023
Exhibition and Wet Paint Sale on view July 23 – July 29, 2023
PGSB Closing reception July 29 from 5:00 – 7:00 PM
Guest Juror: Hillary Broder-Anderson
The Patchogue Arts Council (PAC) is pleased to announce Paint the Great South Bay 2023 Plein Air Event, Exhibit, and Wet Paint Sale. The Patchogue Arts Council invites artists to paint en plein air along the Great South Bay, ranging from Smith Point Beach to The Fire Island Lighthouse.
PROCEDURE: Certifying Artists Work During PGSB 2023
During the PGSB Painting time frame (July 8 – July 22) artists must:
• Email two photographs of themselves in front of the work at the painting location at the start of the piece and one image with the finished piece.
• Each photograph should also include the official PGSB 2023 date card filled out with the day's date. (These cards will be included with registration packets)
• Email these images before drop off to [email protected].
**Submissions will not be accepted without them
Important Event Dates:
• Saturday, July 8 through Saturday, July 22, 2023
Artists at work and Painting the GSB – RAIN OR SHINE
ARTIST PACKET PICK UP | July 6 from 2:00 – 7:00 PM or July 7 from 2:00 – 7:00PM @PAC•MoCA
DROP OFF | July 22 from 3:00 -5:00 PM TBA Registered artists are invited to bring their framed and ready to hang to the Patchogue Arts Gallery located at 20 Terry Street, Suite 116. You may drop off each other's works. Works MUST BE WIRED. Please use d rings only, no screw eye hooks or saw tooth hangers. Works will not be accepted if they are not wired correctly. Works must be 24×24 or smaller.

EXHIBITION | July 23 – July 29: Exhibition, Reception and Wet Paint Sale to celebrate the end of the PGSB plein air event.
RECEPTION | July 29 from 5:00 – 7:00 PM: Reception procedure and event details for PGSB 2023 registered artists will be announced in June 2023.
PICK UP | July 29 from 7:00 – 8:00 PM: Paintings must be picked up from Patchogue Arts Gallery by artist or approved family/ friend. PAC will not be responsible for work not picked up by Saturday, July 29, 8:00 PM.

Special drawing events/ meet ups will be announced at artist packet pick up!
LOCATIONS | The Great South Bay on the South Shore of Long Island, which includes the towns/villages/areas of Shirley, Bellport, East Patchogue, Patchogue, Blue Point and Bayport, Sayville and West Sayville, essentially the areas south of Sunrise Highway.
Plein Air Artists must agree to the following rules for the Plein Air event:
Event will be limited to 40 plein air artists in the 18+ category and is on a first come first serve basis. This year we are happy to announce a special Young Artist category for artists 17 and under. There is no fee for the young artist category and the same rules apply.

To be eligible to participate in the exhibit and wet paint sale, painting must be done between Saturday, July 8 through Saturday, July 21, 2023.
PAC has partnered with Save the Great South Bay this year!
Save The Great South Bay Inc. is a 501(c)3 non-Profit whose mission is to restore and protect Long Island's Great South Bay. It was formed in 2012 by south shore residents who were alarmed by the worsening condition of the bay—brown tide and murky waters, with clams, oysters, and fish mostly gone—and founded the organization to heal and restore the bay, for now and future generations.
Our four key strategies for making this happen include the following programs:
Creek Defender whereby we clean up debris and invasive species along the 50 creeks leading into the Bay to ensure maximum water flow.
Native Habitat Restoration whereby we restore native plantings to open areas and encourage homeowners to Start Where They Stand by utilizing Bay Friendly practices in their own yards.
Great South Bay Oyster Project whereby we are restoring oysters to the Bay through our oyster sanctuary. One adult oyster filters up to 50 gallons of water per day.
Advocacy & Education whereby we advocate for the increased use of innovative and alternative wastewater treatment systems and increased use of sewers to reduce nitrogen flow into the Bay; Bay Friendly practices to reduce fertilizer usage and thereby nitrogen flowing into the Bay; education at the K-12 level to engage students in learning about their hyperlocal waterways and create the next generation of local stewards.