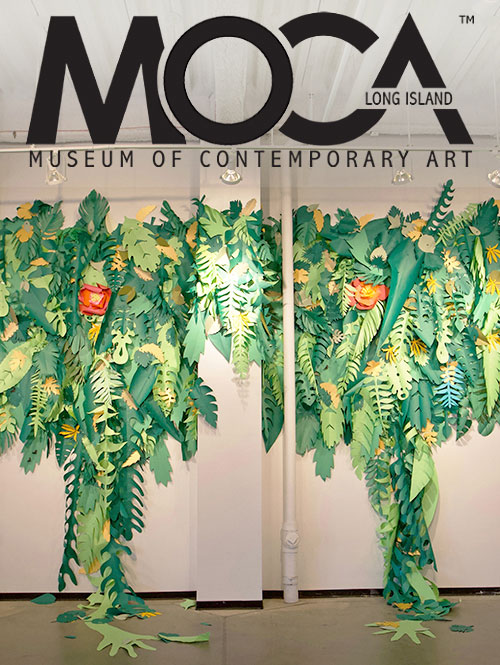 MoCA LI Gallery & Office Hours:
Thursdays & Fridays: 2:00-7:30 PM
Saturdays & Sundays: 1:00-5:00 PM
---
Current Exhibition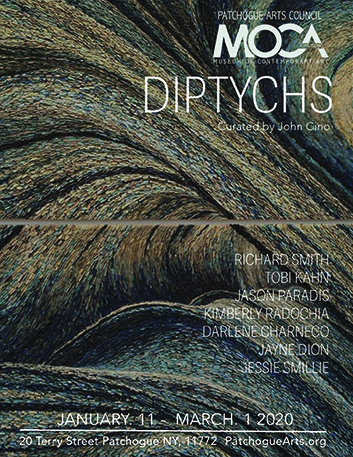 Diptychs
PATCHOGUE ARTS COUNCIL • MOCA L.I.
Diptychs
Curated by John Cino
January 11 – March 1, 2020
Artist Reception: January 11, 5:00 – 7:00PM
MoCa LI will present a variety of works from an eclectic group of artists in an exhibition entitled Diptychs. A diptych is a single work of art that is composed of two separate surfaces which are then displayed together. The term diptych literally means 'two pictures' and comes from Latin when in Antiquity they were hinged together for elaborate book covers. As fitting with our modern or postmodern times, the artists of Diptych each have a unique interpretation of the form. The artists span a large swath of northeastern geography and range from emerging to established artists.
Included in the exhibition are Tobi Kahn, Jason Paradis, Kimberly Radochia, Darlene Charneco, Jayne Dion and Jessie Smillie. Of special note is the inclusion of a work by the late Richard Smith created in 1971.
Patchogue Arts Council • MOCA L.I.
20 Terry St, Suite 116, Patchogue, NY 11772
---
MOCA LI Gallery News
---
Solo & Group exhibits of distinct vision by regional artists are presented to visitors. Mission Statement: The Patchogue Arts Council is dedicated to serving the community by encouraging, promoting and supporting the arts.
---