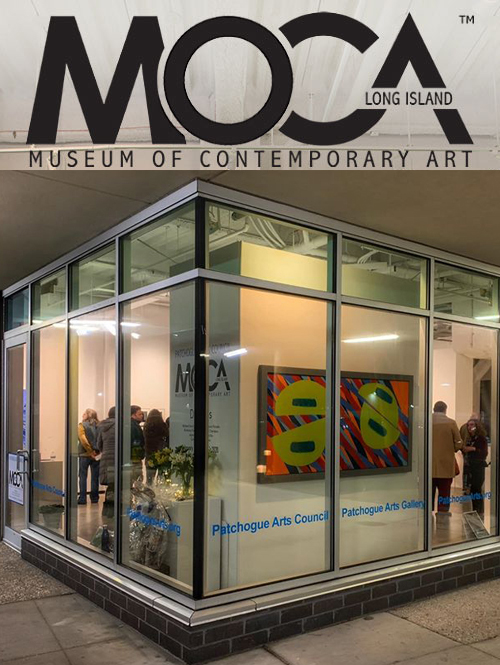 MoCA LI Gallery & Office Hours:
Thursdays & Fridays: 2:00-7:30 PM
Saturdays & Sundays: 1:00-5:00 PM
Image Credit: Andrea Stolz
---
Current Exhibition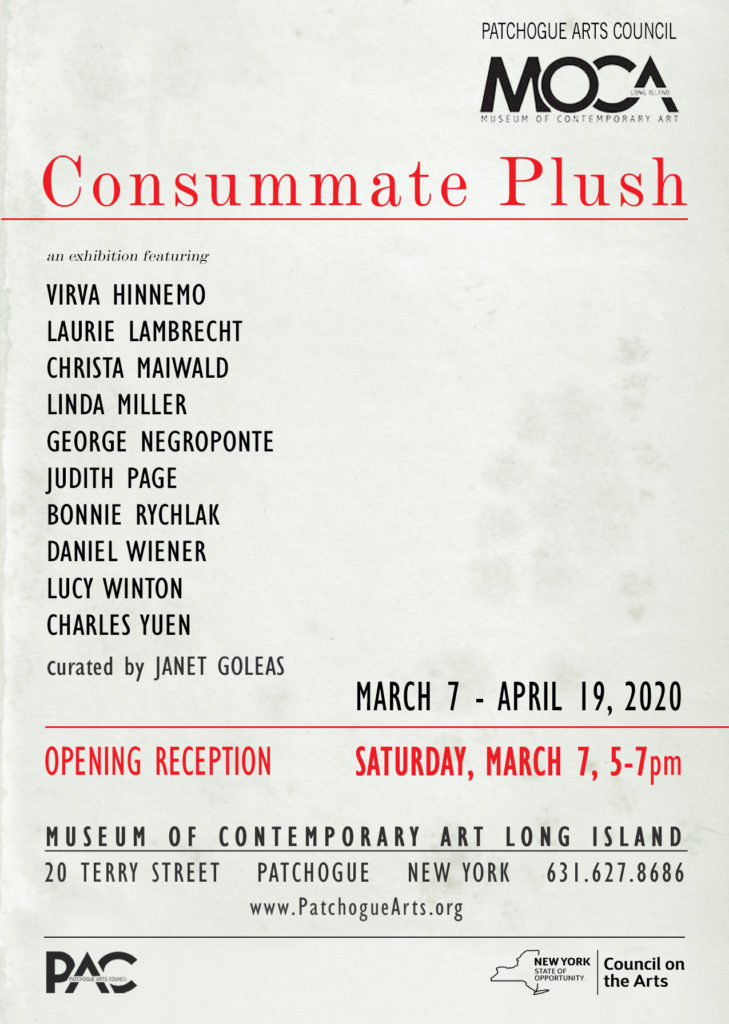 CONSUMMATE PLUSH
PATCHOGUE ARTS COUNCIL • MOCA L.I.
CONSUMMATE PLUSH Curated by Janet Goleas
March 7 – April 19, 2020 Reception March 7 from 5-7 PM
Consummate Plush, an exhibition organized by artist and independent curator Janet Goleas, takes its name from an Emily Dickinson poem titled, Part One: Life, CXXXVIII. Fueled by Dickinson's expansive intuition, veracity, and her elastic use of language, the exhibition will explore identity, abstraction, and the phenomenological nature of vision.
Selected artists include Virva Hinnemo, Laurie Lambrecht, Christa Maiwald, Linda Miller, George Negroponte, Judith Page, Bonnie Rychlak, Daniel Wiener, Lucy Winton, and Charles Yuen.
The enigmatic genius of Emily Dickinson has been studied for over a century, yet she remains a beguiling literary and literal conundrum. Part mystic, part heretic, she wrote in metaphor with aching clarity. Dickinson envisioned the mind and spiritless as concepts than as actual places; she feigned conventionality in her dress and manner yet was an early feminist, and her use of language and grammar upended literary convention. She questioned faith, morality, pain, and ecstasy. A botany aficionado and gardener, the poet also assembled an herbarium of 424 flowers, now residing at the Harvard Houghton Rare Book Library. Her posthumous success revealed Dickinson to be one of the great modernist voices in American poetry.
Consummate Plush is a response to Dickinson's quiet yet radical oeuvre, her flexible use of structure, and the depth of her self-inquiry. Judith Page's veiled figures and Daniel Wiener's fantastical motifs possess vestiges of the Gothic, touching on Dickinson's plastic sense of identity and mortality. Christa Maiwald's embroidered images recall the stitched bundles of poetry found in Dickinson's bureau after her death. Lucy Winton and Charles Yuen share a sense of the dreamscape – places where the chimerical exists alongside this-ness and otherness. Virva Hinnemo's use of gesture and spatial depth transport us to an environment in which writing and imagery coexist. Bonnie Rychlak's subversive drains offer both a sense of escape and reflection, and Linda Miller's examinations of organic form elude to abstract figuration and the monumental. For George Negroponte, an incisive use of pastiche and tight, visual reciprocity conjures Dickinson's startling poetic structure. In Laurie Lambrecht's embroidered, photographic images, it is the poet's genteel life in the botanical that confers a sense of natural wonder, order, and reverence.
Join curator Janet Goleas and selected artists on Saturday, March 28th from 10:00 AM – 12:00 Noon for a gallery breakfast and discussion, sponsored by the Patchogue Medford Library.
Patchogue Arts Council • MOCA L.I.
20 Terry St, Suite 116, Patchogue, NY 11772
---
Past Exhibition
Diptychs
Richard Smith, Tobi Kahn, Jason Paradis, Kimberly Radochia, Darlene Charneco, Jayne Dion, and Jessie Smillie.
Curated by John Cino
January 11 – March 1, 2020
MOCA LI Gallery News
---
Solo & Group exhibits of distinct vision by regional artists are presented to visitors. Mission Statement: The Patchogue Arts Council is dedicated to serving the community by encouraging, promoting and supporting the arts.
---